Introduction
Market research is of great importance for any merchant before deciding to run an online business. By doing this way, store owners can predict the products that meet a high demand of Internet shoppers and thus ensure the success of their stores.
As being a popular name since 2005, Etsy has been home for 63,765 currently live websites. If you are planning to be an online merchant on this platform and wonder what are the Best Selling Items on Etsy and How to start selling on Etsy, keep reading because this article is well-tailored for you.
Why should you sell on Etsy?
Etsy is an eCommerce marketplace that allows you to register for an online kiosk and share the same space with other sellers. Similar to Amazon and eBay, Etsy helps you display your products to a large number of online buyers globally. However, due to its scale, Etsy is more preferable for small enterprises.
Once owning an Etsy seller account, you will surely benefit in many ways. Firstly, besides listing, transaction and offsite ads fees, you don't need to pay additional monthly expenses. Therefore, you are capable of setting up an Etsy store at a low cost. Plus, it is easy to use thanks to the simple process of uploading items. Last but not least, Etsy can empower your business with numerous features and toolkits that make the store management more effective.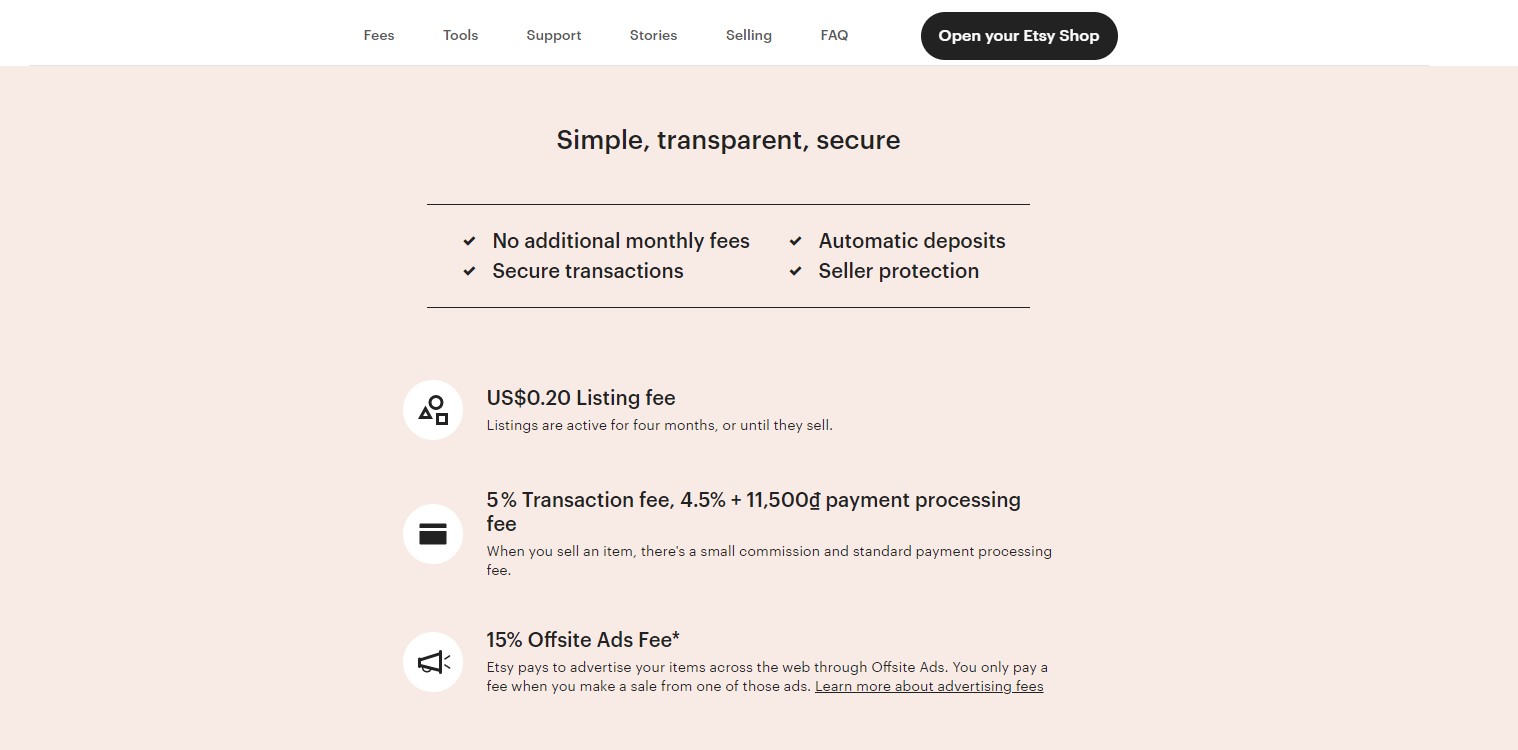 For more information, here we provide you with a head-to-head comparison between Etsy and Shopify. This article will help you grasp the reason why Etsy is worth being heeded
Let's scroll to the end to find out Best Selling Items on Etsy that possibly thrive your online business with booming sales. Then, we will show you How to start selling on Etsy .
10 Best selling items on Etsy?
Before diving into our recommendation about 10 Best Selling Items on Etsy, let's take a look at what kind of product you can put on the shelves.
With the aim of appreciating the human imagination, Etsy defines itself as a global art fair. This is an online market where people can connect to make, sell and buy unique, creative items.
As a result, buyers can easily search for Handmade creations, Vintage Items and Craft Supplies. Especially, you need to make sure that the vintage goods you offer must be at least 20 years old.
Now, it's time to discover what are 10 Best Selling Items on Etsy. Stay tuned!
1. Sticker
Some of you may be surprised because this small item appears in this list. You can use stickers to decorate notebooks, postcards, greeting cards, and so on. Therefore, this product has a vast market.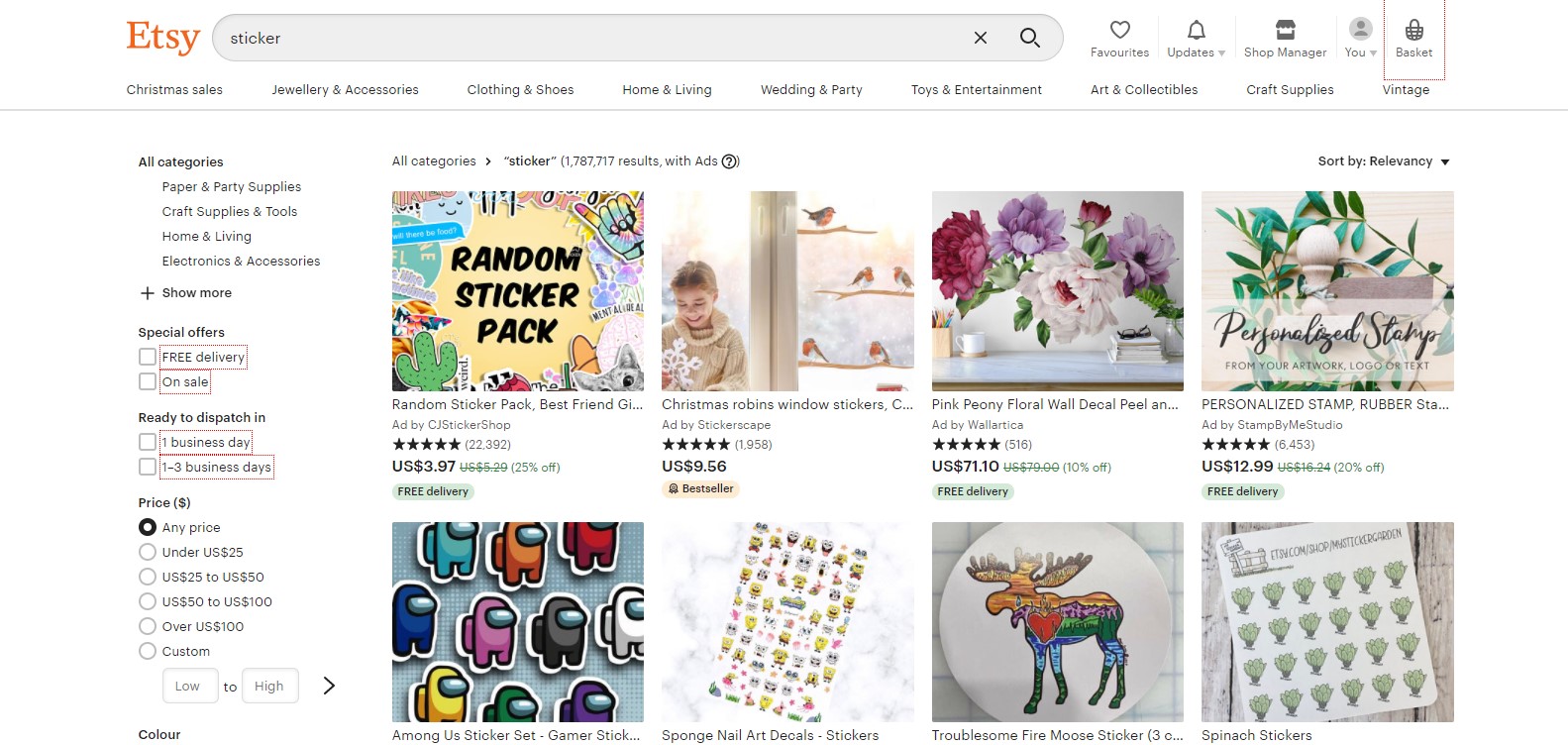 2. Notebook and journal
Notebooks and journals are also on the Top Best Selling Items on Etsy list. The reason lies in the fact that writing has been an interest of many people. In addition, a journal would be a good choice for those who want to jot down personal experience during their travel.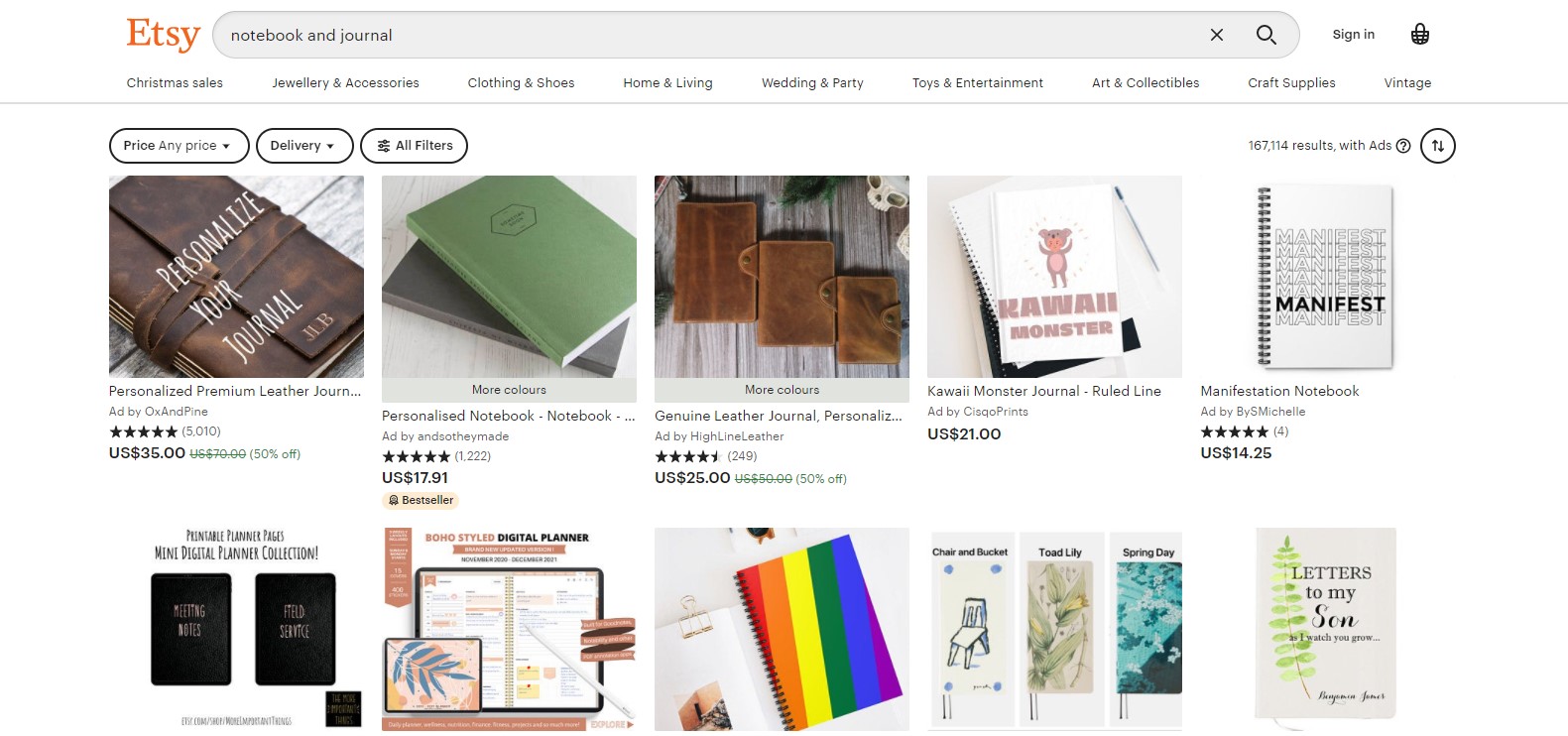 3. Jewelry
Jewelry can be rings, earrings, necklaces, bracelets, charms, and so on. This is always the hottest item in every platform as being a must-have accessory for both men and women. As a result, jewelry is a potential niche you can try when selling on Etsy.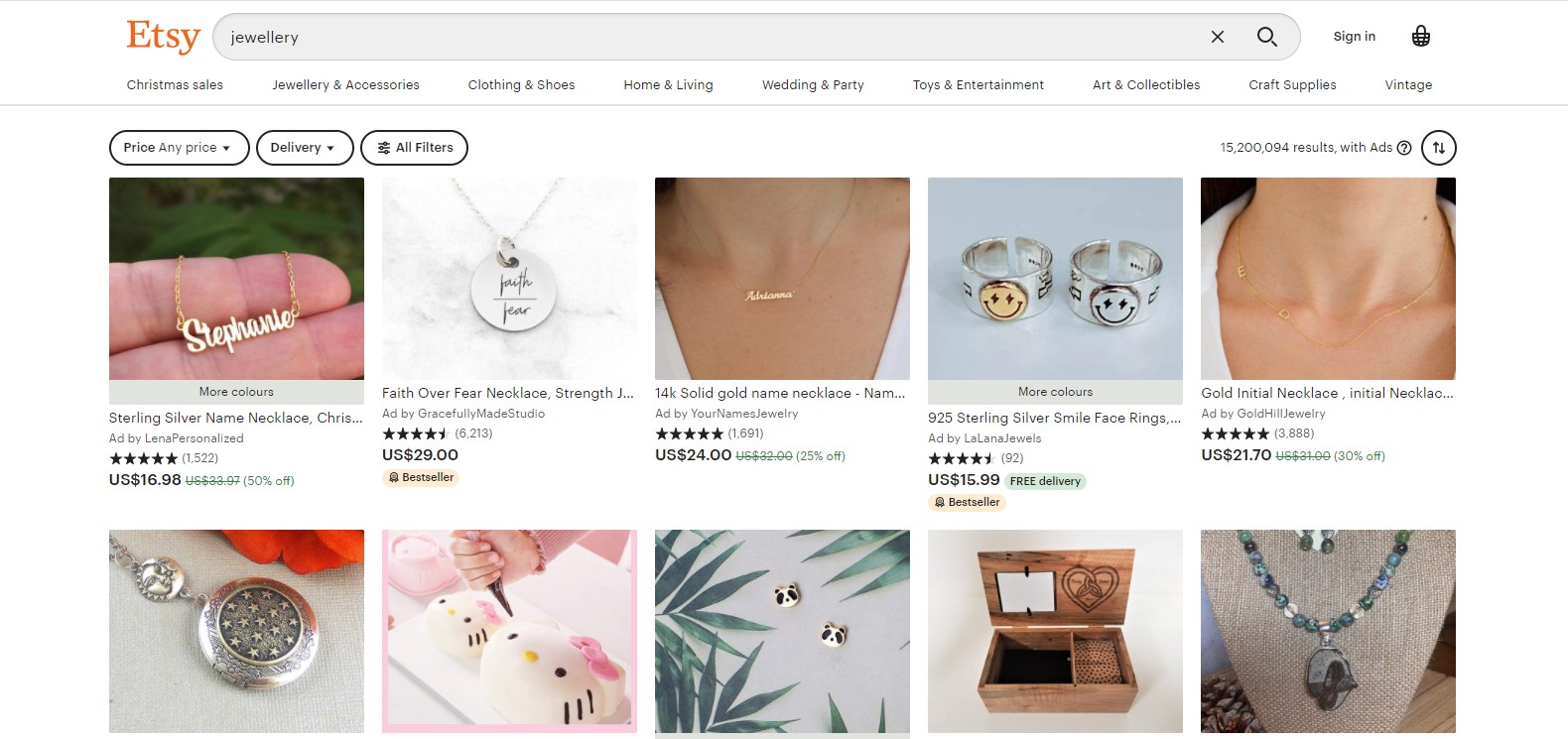 4. Home decor
The number of people paying attention to decorating their houses and rooms creates an increasing demand for home decor products. You can consider selling wallpaper, furniture, paintings,…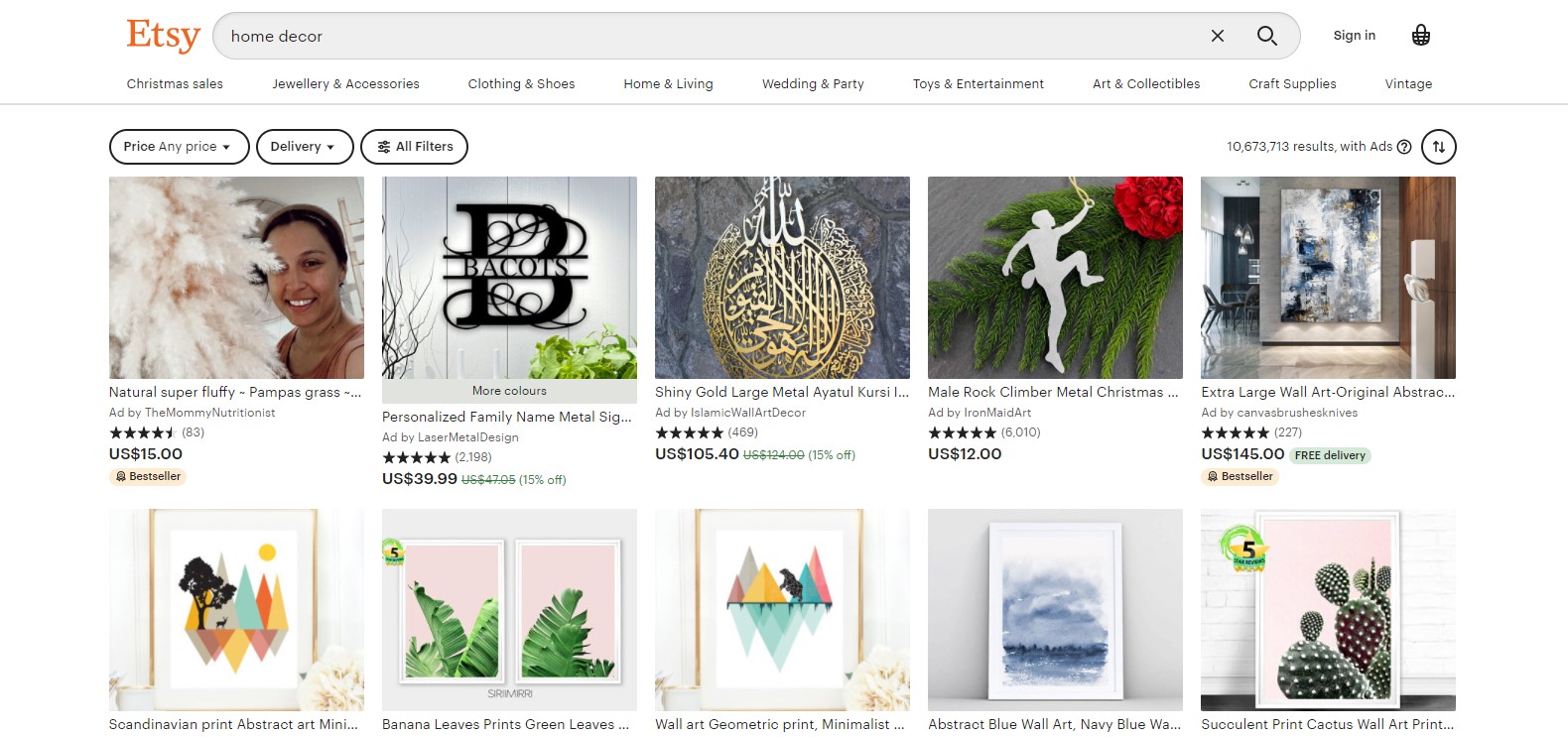 5. Miniature
The art of miniature has been an upward trend for years. It lures people into putting dedicated effort into making tiny things. Until now, the miniature community is still expanding at a rapid pace.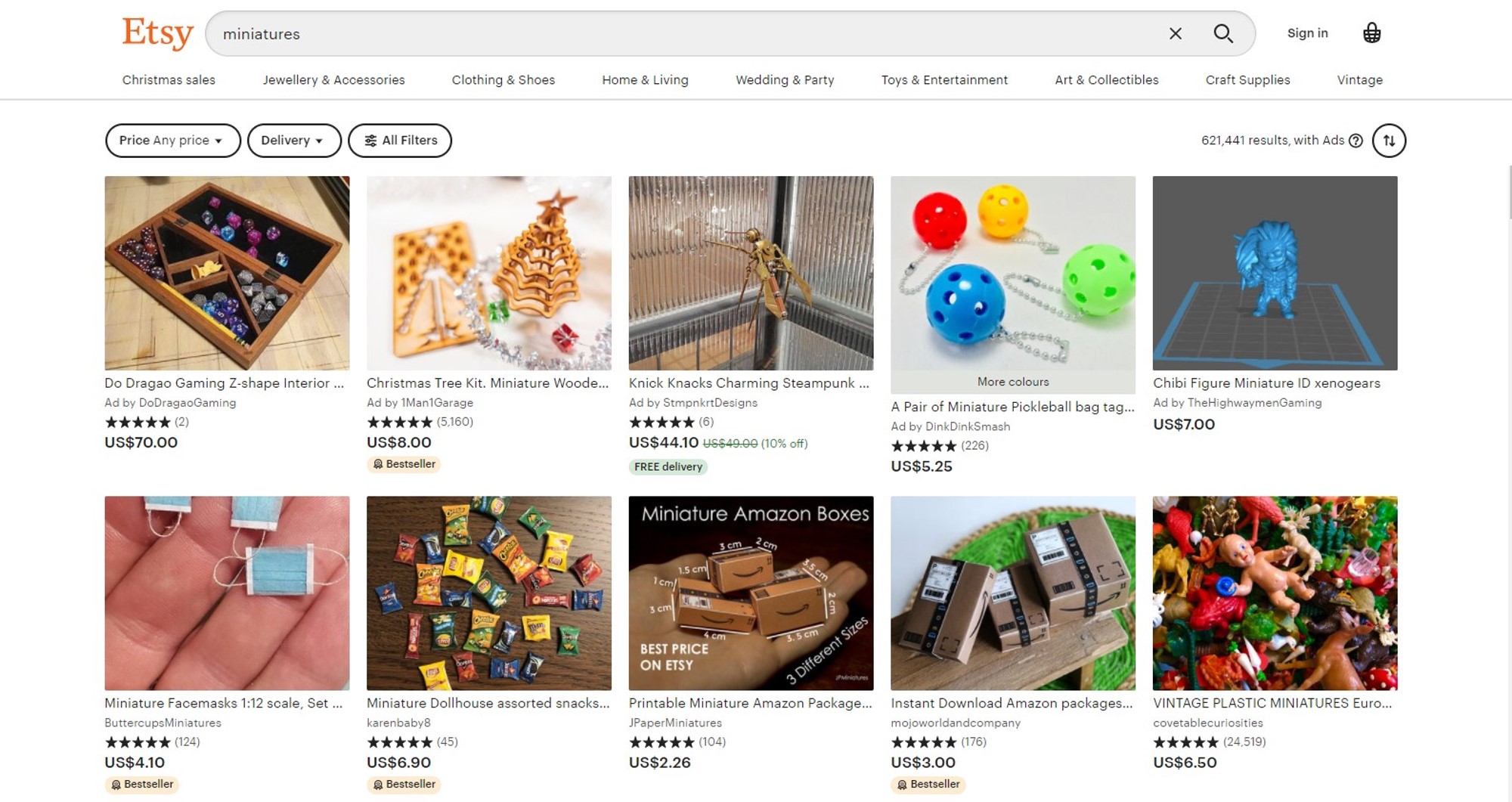 6. Organic cosmetics
Nowadays, more and more people are pursuing a healthy, environmental-friendly lifestyle. They are likely to buy cosmetics with natural ingredients since they are safe for sensitive skin types.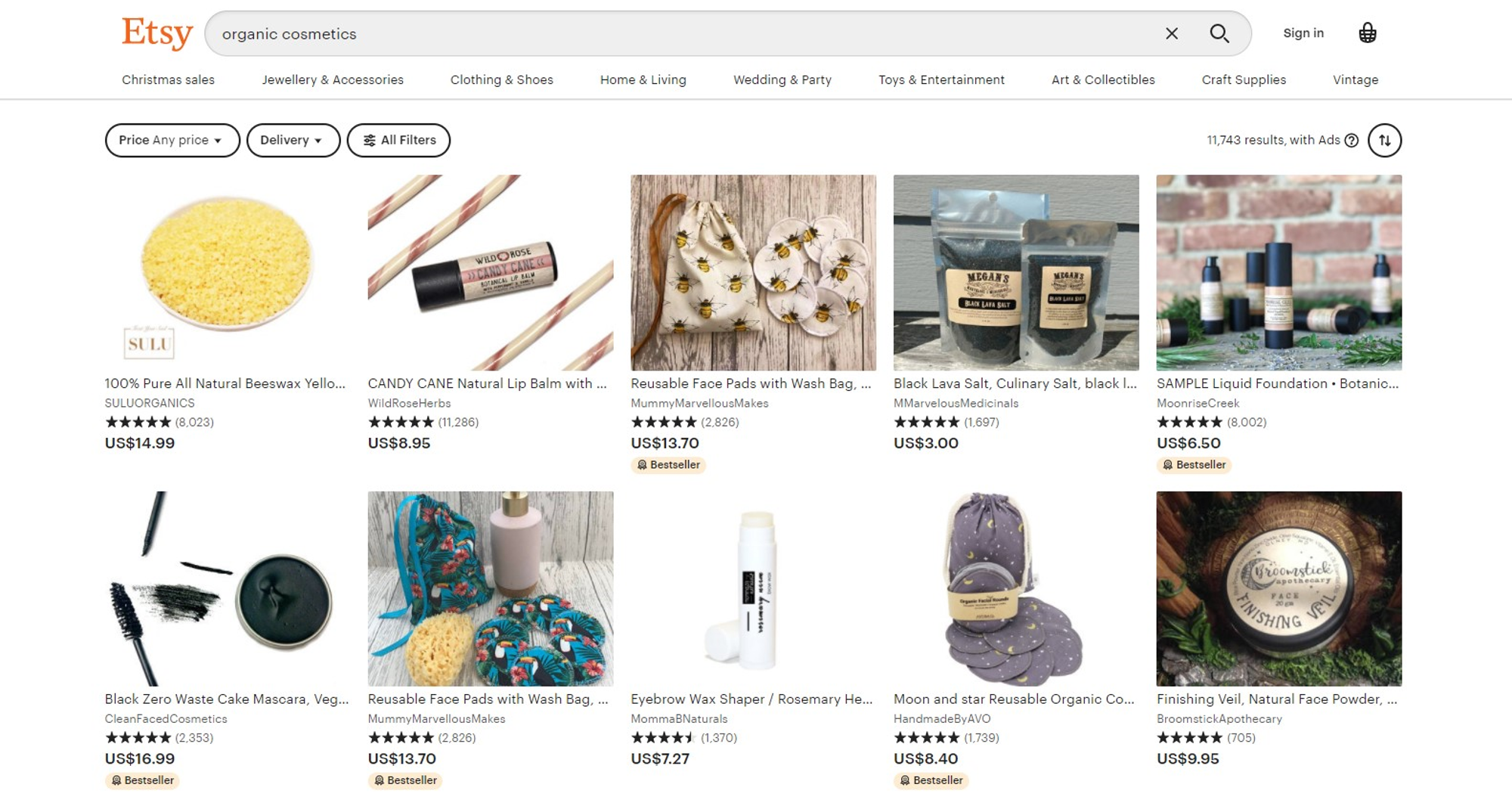 One thing you must keep in mind is that organic cosmetics production requires strict checking. Another way to monetize your online business from hand-made beauty products is by finding a reliable supplier. Then you can label them under your store name.
7. Sewing and Crochet Pattern
Hand-made items with sewing and crochet patterns are widely preferable all around the world. You can take a look at hundreds of video tutorials on Youtube and other platforms to make sweaters, dresses, or teddies and sell them on your Etsy shop.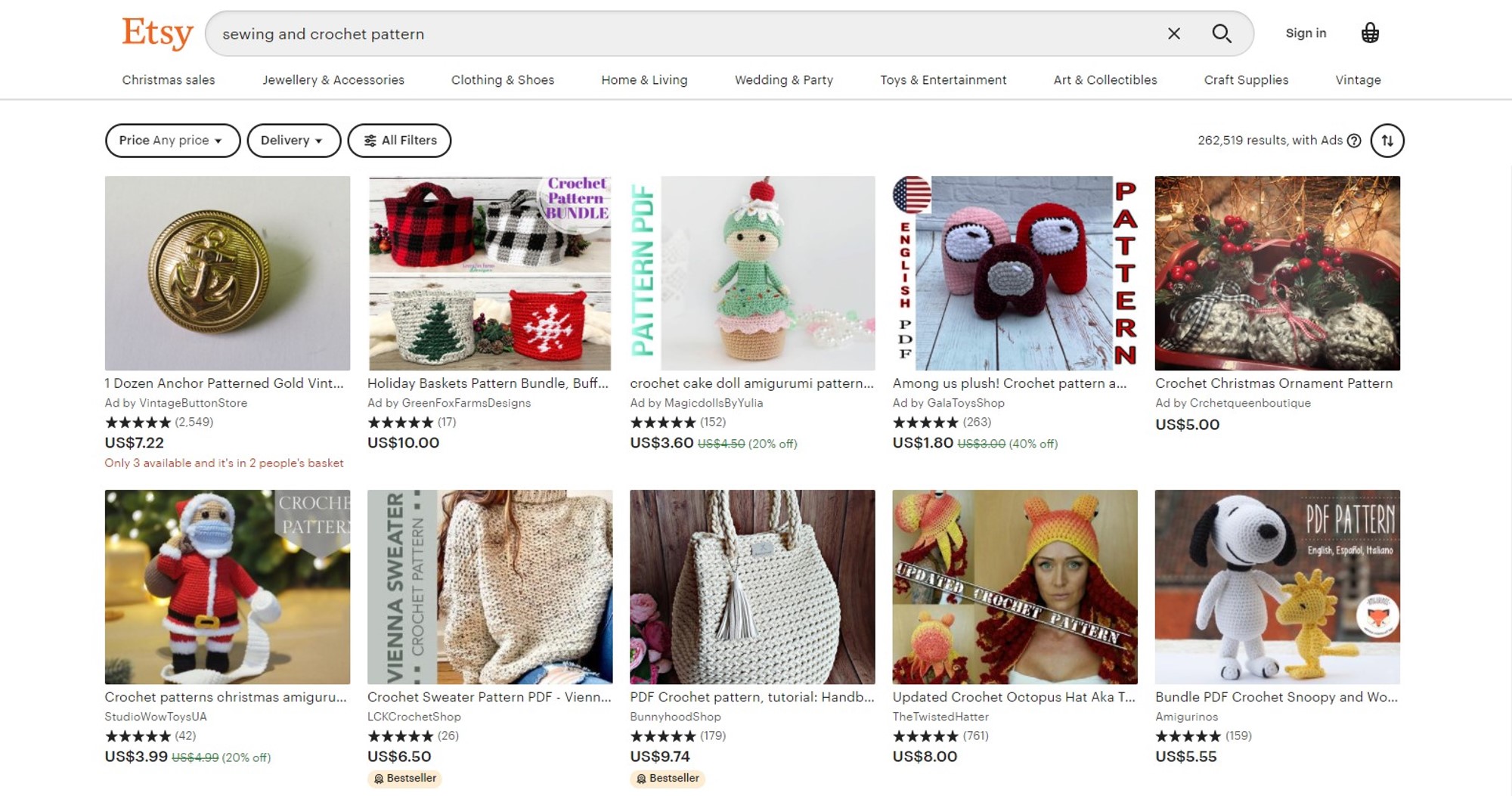 8. Phone case
With the development of technology, smartphones have become an integral part of our daily lives. Therefore, we need to use a phone case to keep our phone clean and protect it in case we drop or step on.
Besides print phone cases, you can easily use acrylic colors to draw and customize them on purpose. Therefore, phone cases serve as one of the Best Selling Items on Etsy.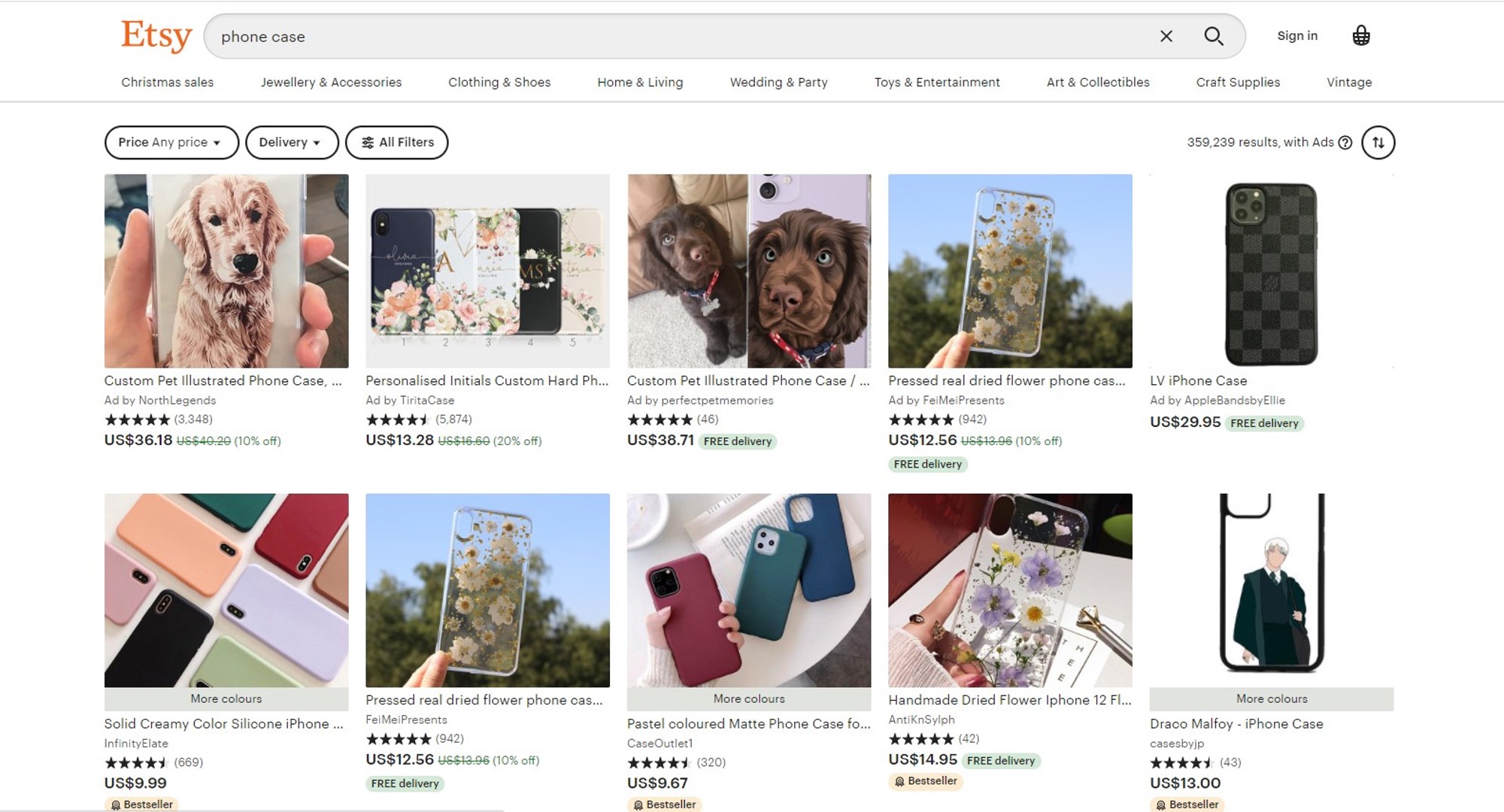 9. Papercraft
Papercraft is either a fantastic decoration or gift for friends. As you can see, there are still a lot of people who show their passion for these creations even when we are in the digital world. Papercraft could be a promising item for you to start your business on Etsy.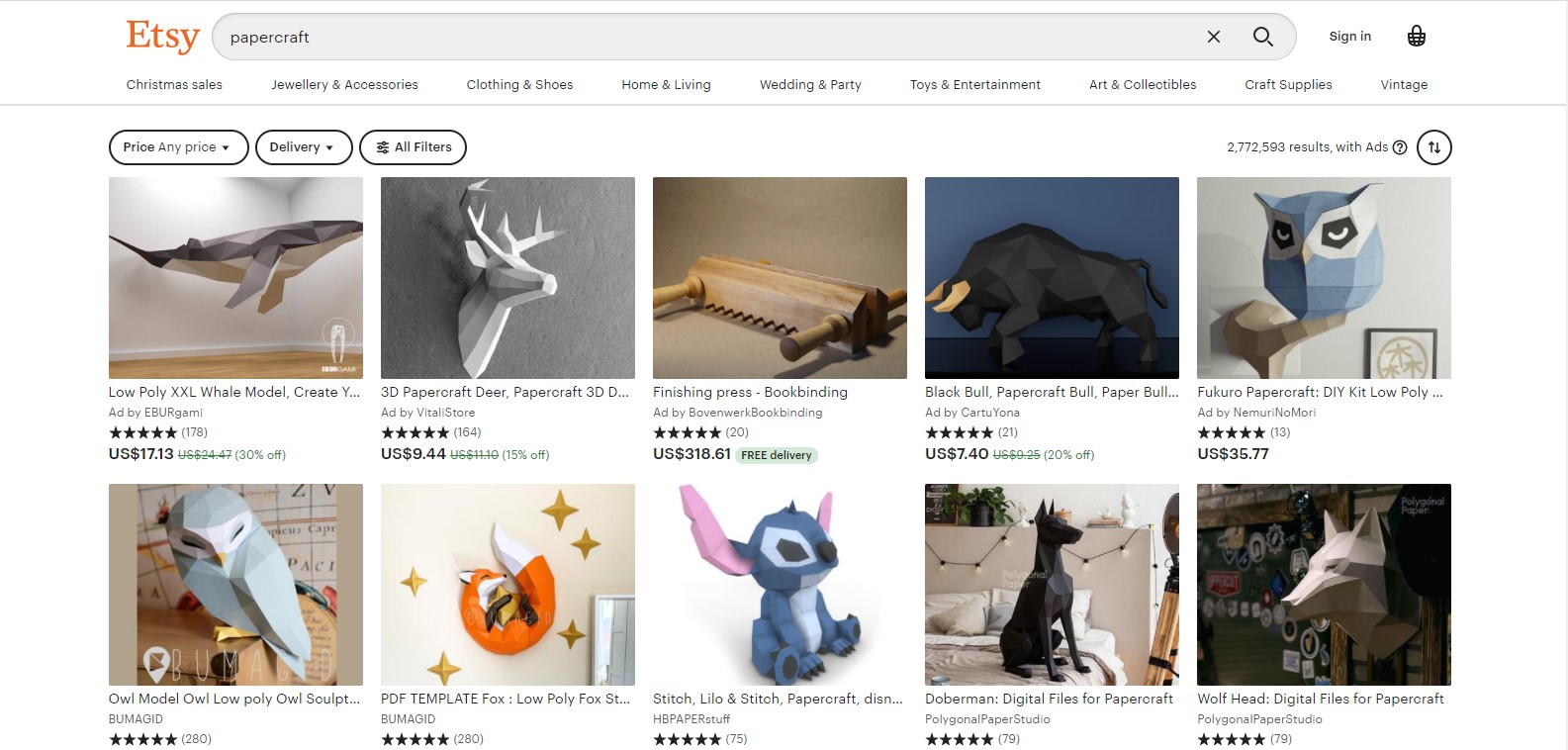 10. Candle
Last but not least, homemade candles are also a popular item with thousands of sales on Etsy. Making a candle is not expensive at all. In contrast, you can sell this product at a high price if you can make it unique by drawing or decorating the candle.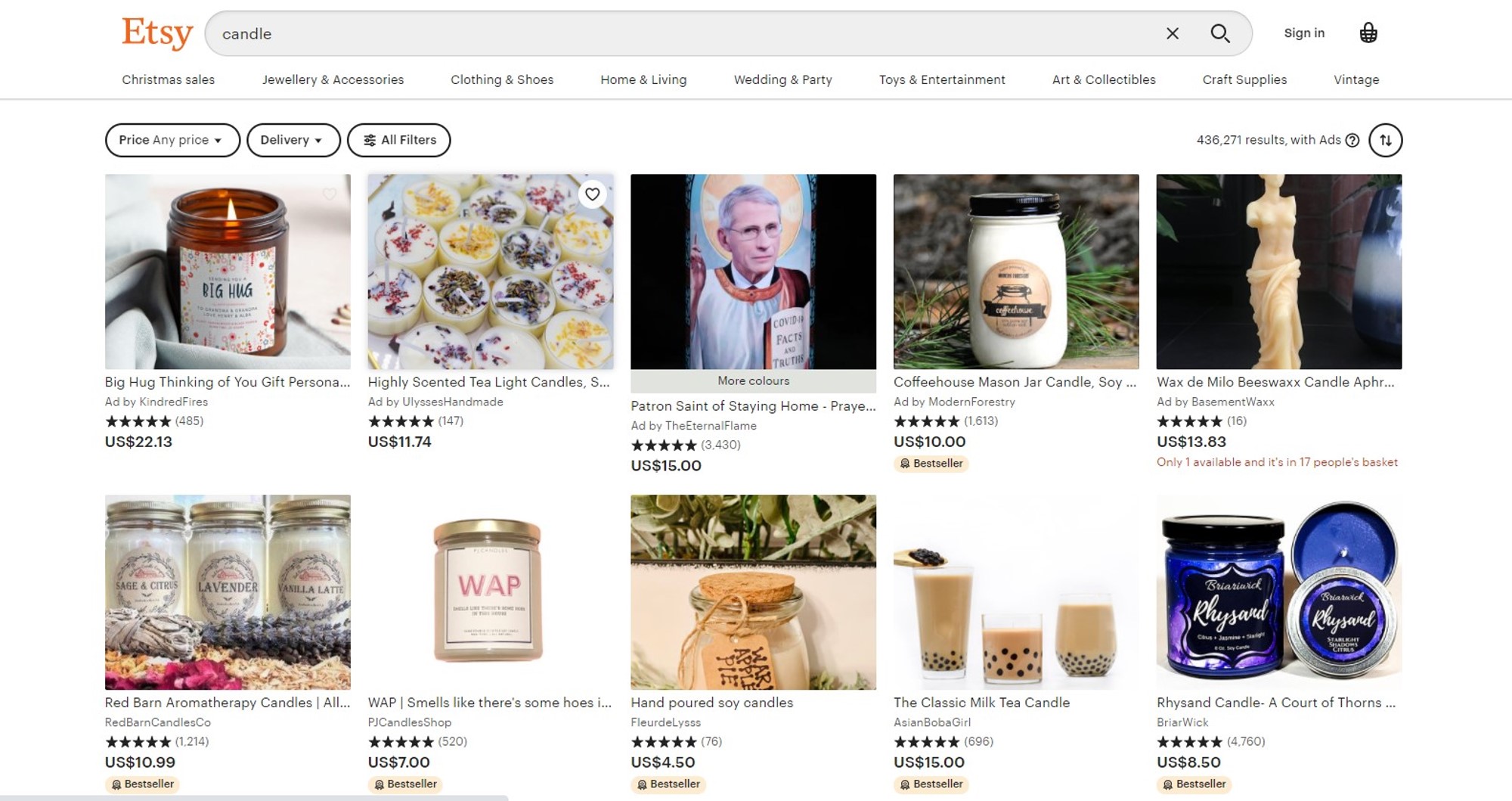 How to start selling on Etsy?
In the next paragraphs, we will walk you through detailed instructions on How To Start Selling On Etsy to display your creative products.
Step 1: Create an account
First of all, you will need to carefully review Etsy's legal terms and policies. This official document will help you know whether your products are up to snuff or not. Most importantly, you should have a glance at how Etsy charges fees in order to estimate your investment costs.
Next, get access to Etsy.com and click Sign in on the top right corner of the main screen. Now you will see a pop-up window providing several ways to log in. Because you are new to this platform, you need to select Register and then fill in the blank bars as following: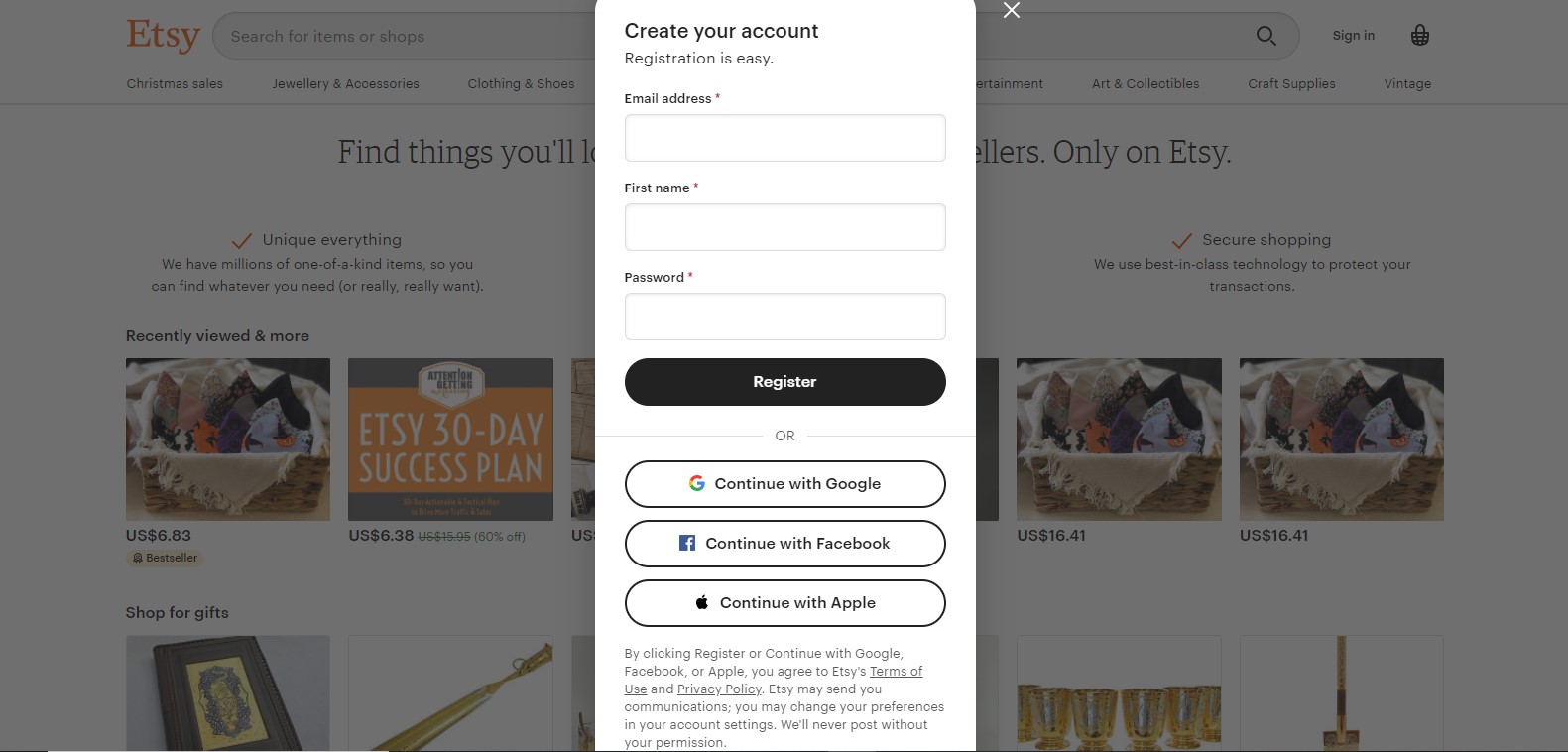 After providing your Email address, First name, and Password, hit the Register button to continue. Then Etsy will send you a confirmation email within a few minutes. All you need to do is to click the black button inside to make your account valid.
Step 2: Add the profile picture and bio
Not only does the Shop profile help introduce your kiosk to Etsy shoppers and other sellers, but it is also a good way to authenticate your account with the customers.
To start, you need to expand the drop-down menu from You section on the right side of the screen. Then, navigate to Account Settings > Public Profile to provide your store information as the image below: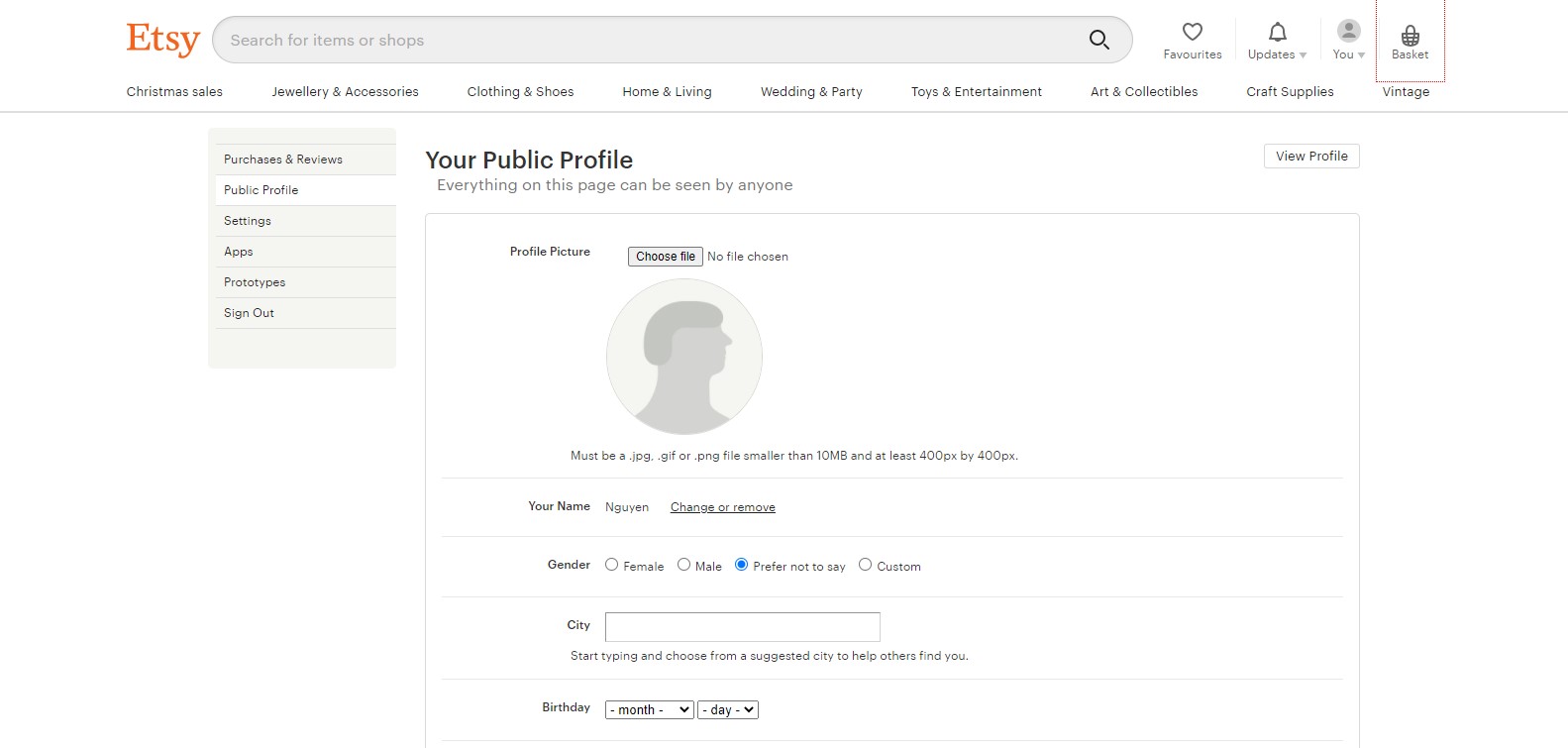 One crucial thing you should take into consideration is choosing a suitable shop owner photo. Here are some tips from Etsy:
Your profile picture must be at least 400 x 400 pixels in size and smaller than 10MB.
Try to upload a square image. Otherwise, your picture will be distorted on the site.
You are capable of adding another profile picture to replace the previous one.
The file format of the photo should be .jpg, .png, or .gif only.
Don't forget to tick the checkbox Shop in the Include on Your Profile section if you want to add your shop to the public profile. Click on the Save Changes button when finishing and keep moving on to the next step.
Step 3: Open an Etsy shop
Indeed, you can open your online shop in a minute with just one click on the Sell on Etsy button.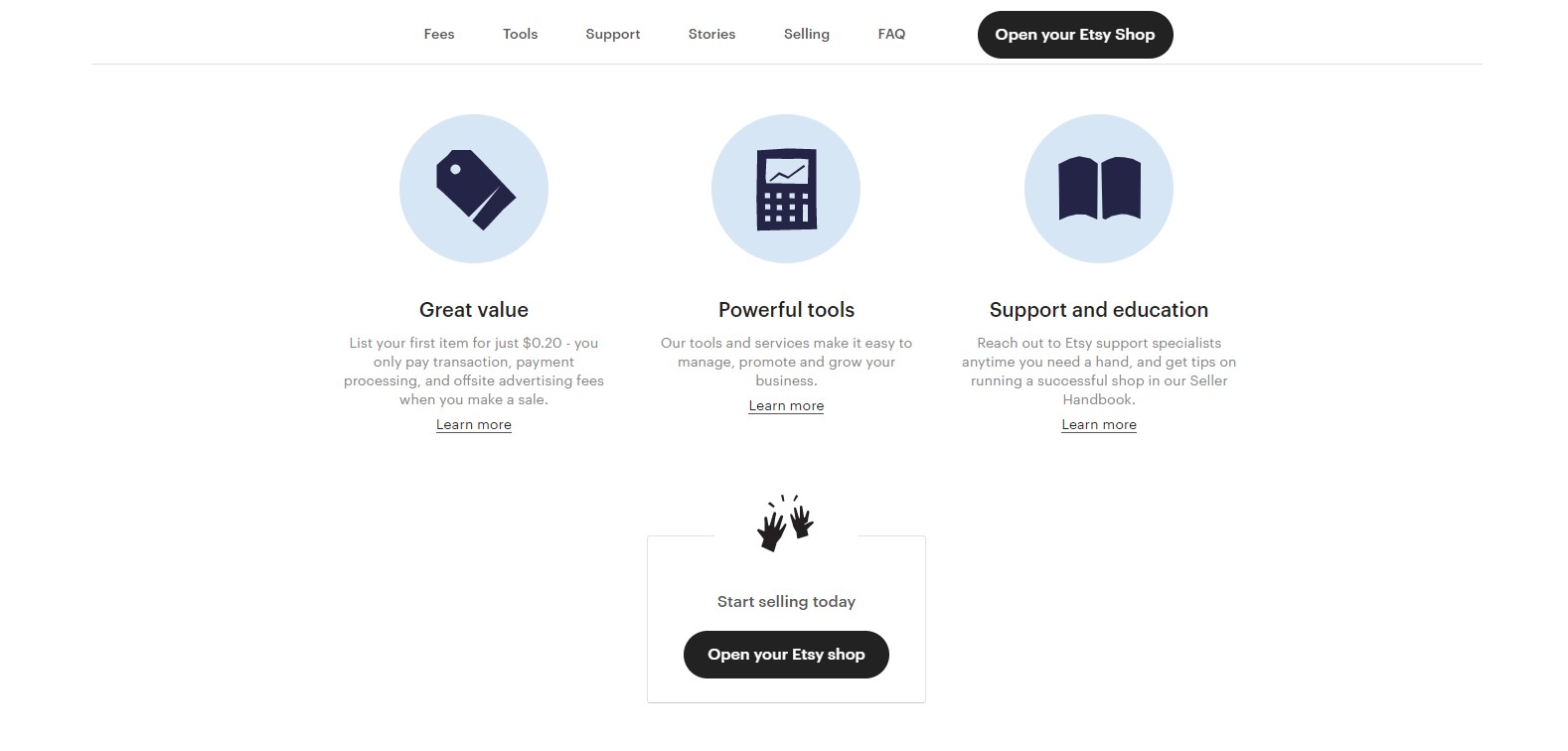 Well-done! Now you already own an Etsy store to spread your creativity and share the same interest with other people. In the next part, we will show you how to set up your newly-built Etsy shop to make it go live.
Step 4: Set up your Etsy kiosk
This step is essential because it takes the role of configuring store management afterward. The customization includes store language, shipping method, payment gateway and so on.
1. Modify your shop preferences
Shop language: Etsy allows store owners to choose from 10 different languages. This is also the default language that you will use to describe the information about your items. Keep in mind that you cannot change this, so think carefully before picking one. However, you can add another language later.
Shop country: Select the country for your business
Shop currency: Pick a currency that you use to set the item price. If your customers come from other countries, Etsy will automatically transfer the price to their local monetary system. Plus, Etsy charges you a currency conversion fee on sales amount for international transactions.
Time commitment: this is an informational question from Etsy to know whether your business is a full-time or part-time job. You can rest assured that the answer will not affect the opening of your store.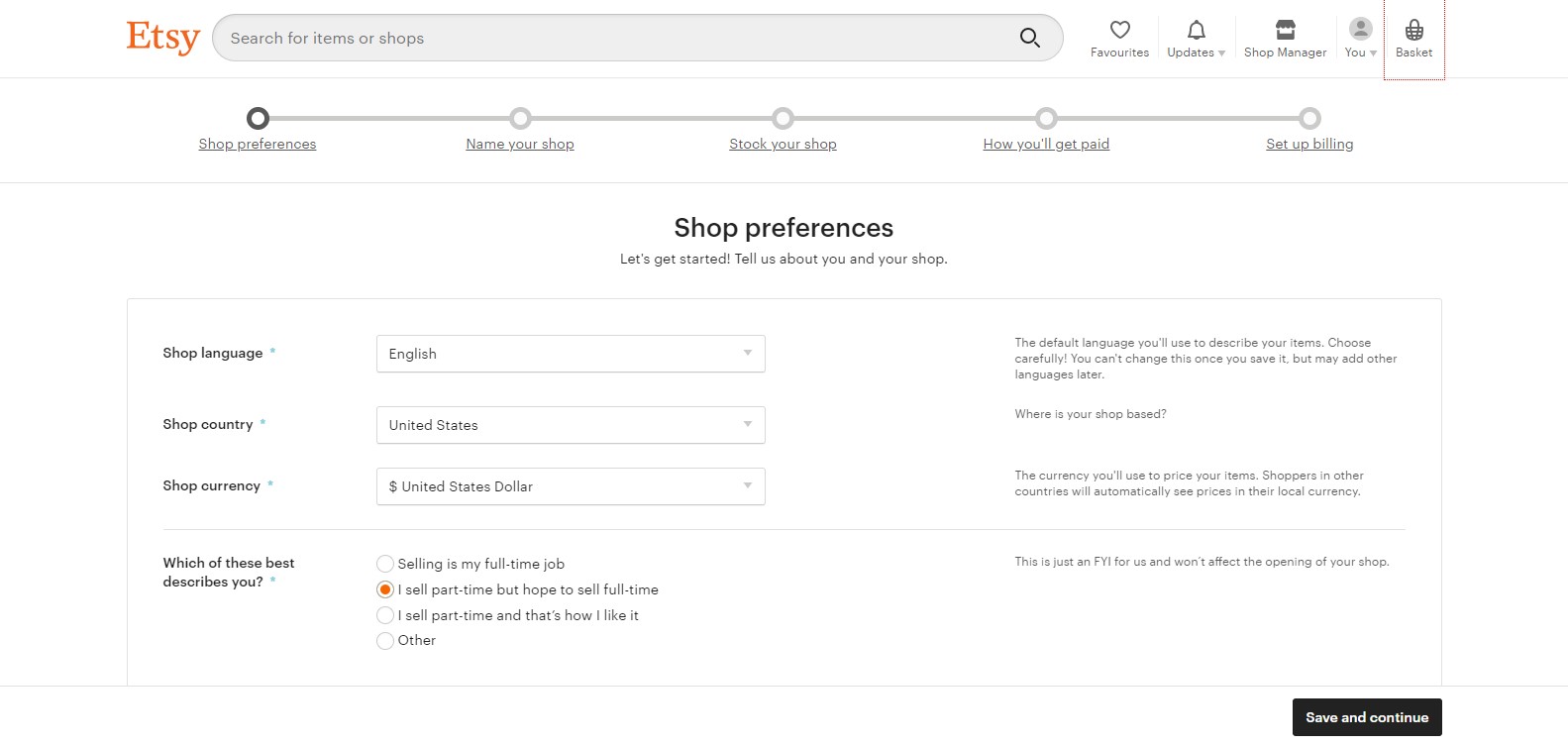 2. Choose your shop name
Besides products, a dazzling shop name is another factor that essentially helps you attract more customers. Providing that your store name is the same as an existing one, Etsy will suggest a list of other available names.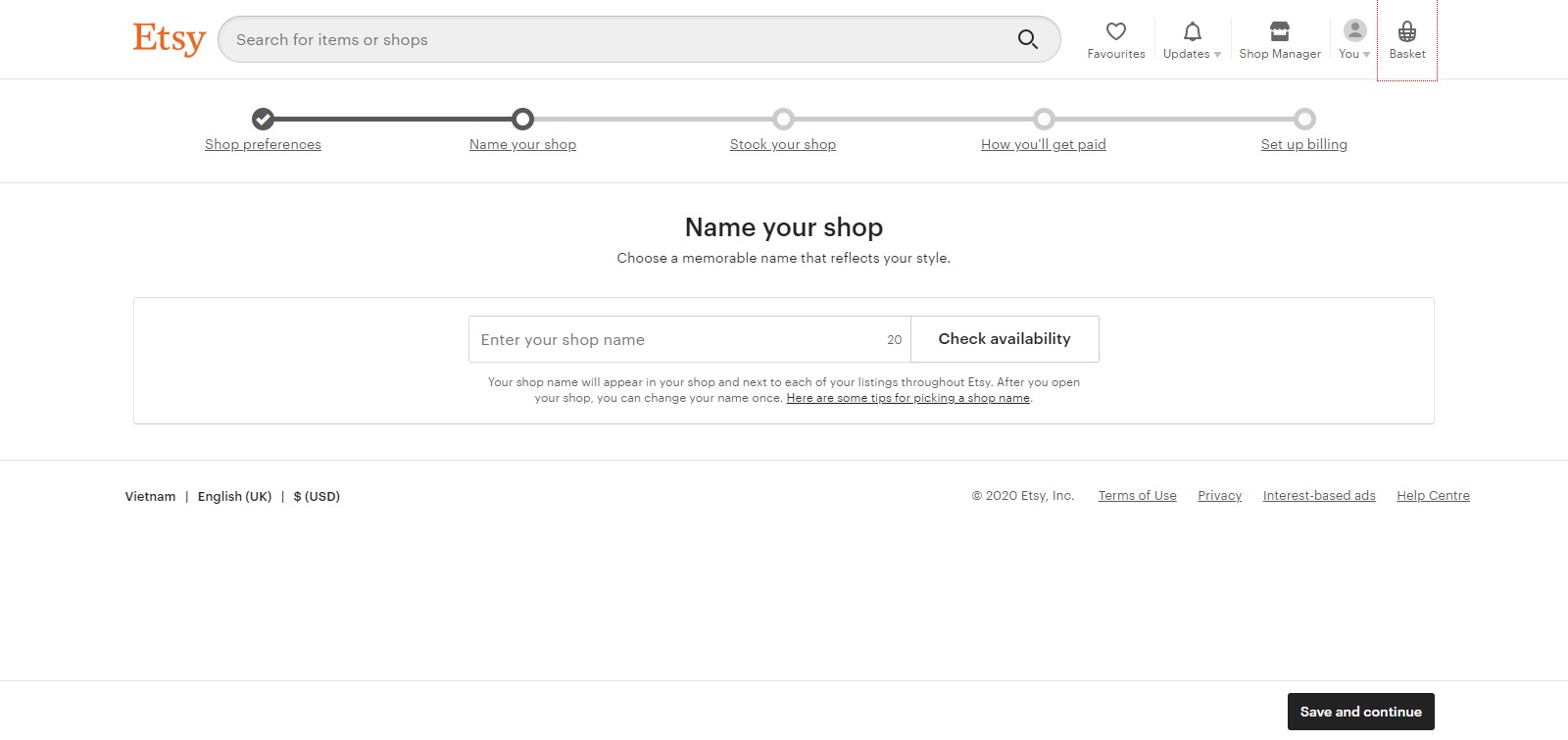 Although you can set a name that reflects the style of your store, you must make sure that it meets Etsy's requirements as following:
4-20 characters in length
No spaces or special characters
No profanity (Your shop name must show respect for a God or religion)
Different from the existing names
Respect intellectual property right of the others
3. Stock your shop
At this stage, you can add as many listings as you want to seize the chance of reaching more potential customers.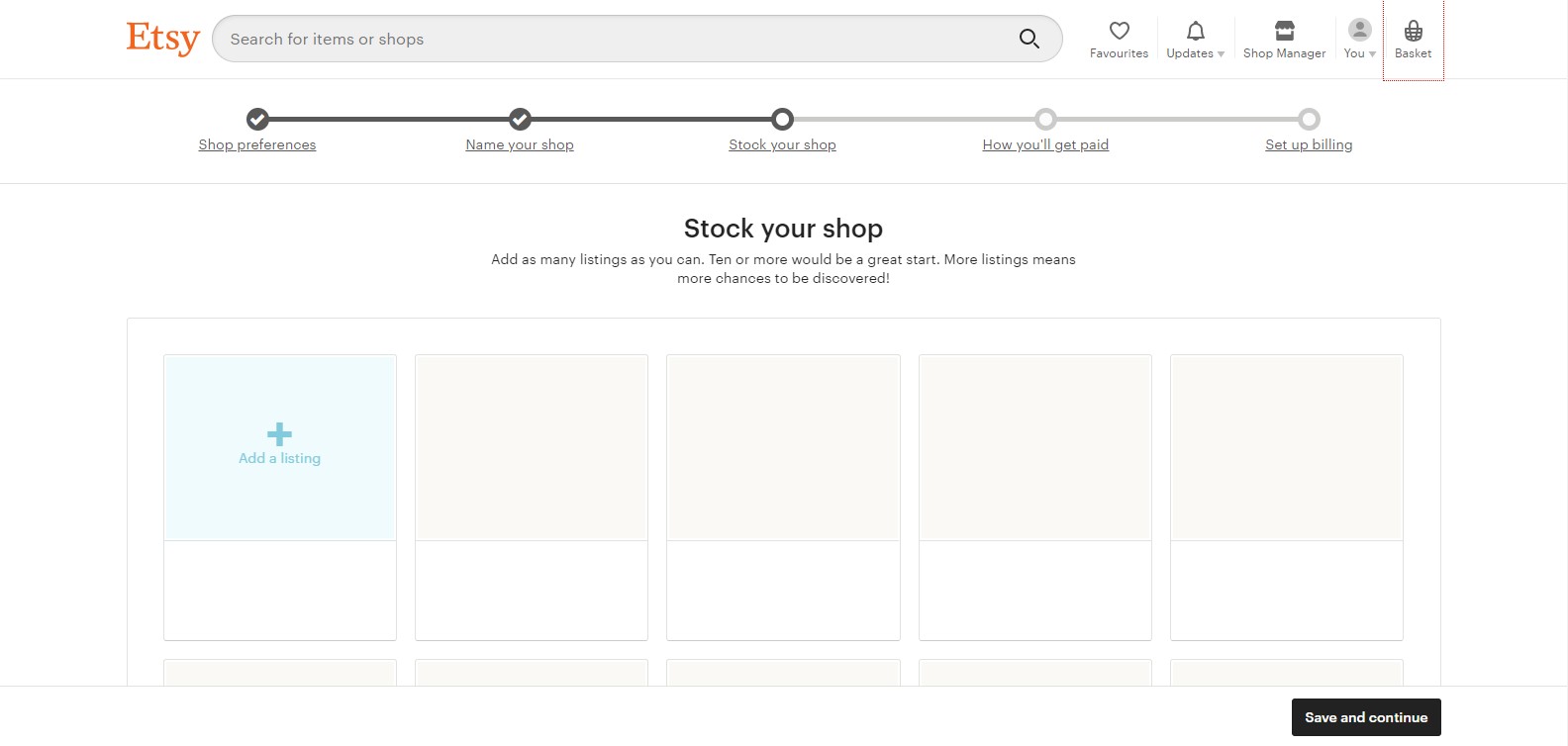 4. Set up your payment method
Payment method decides the gateway that your customers can use to pay for the items you provide. However, you need to see whether you are in an eligible country or not because it impacts how you will get paid.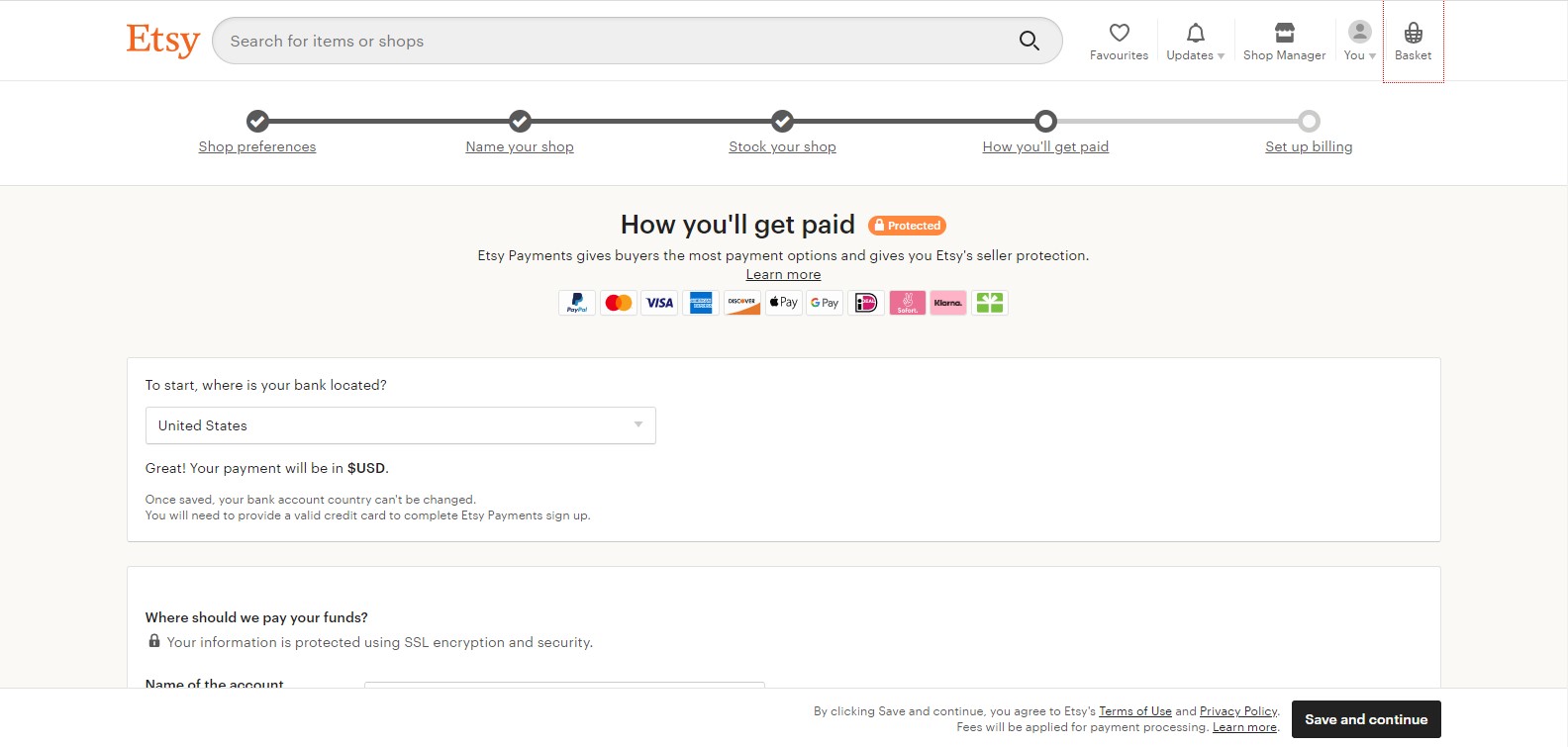 Those who are in eligible countries can enroll in Etsy Payments. Then store owners can offer various payment options for their customers to fulfill the orders.
Don't worry if your country isn't eligible for Etsy because you can freely use your own PayPal account as the payment gateway.
5. Set up billing
At this stage, the form of payment depends on the countries where you are in. You may need to provide the information about your debit or credit card including:
Visa
Mastercard
American Express
Discover
Carte Bleue (France)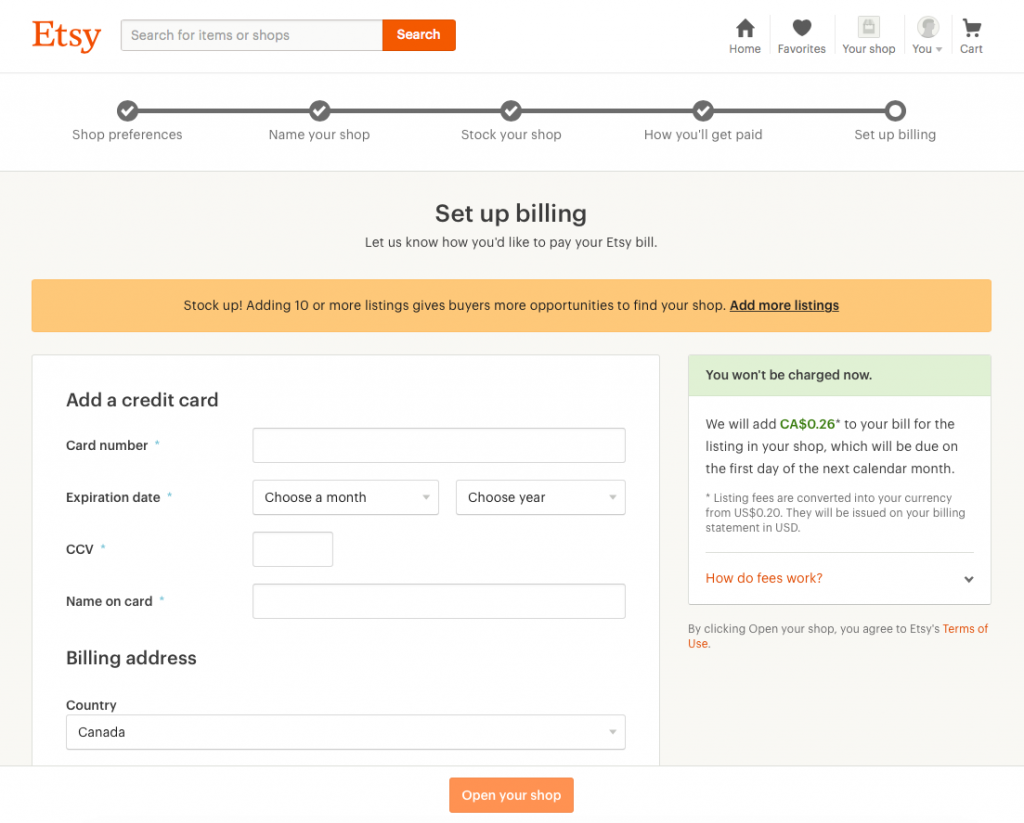 Apart from Australia, Germany, and the Netherlands, Etsy sellers must keep their card on file to verify your shop identity. Also, Etsy will withdraw the authorization fee from your statement once this process completes.
6. Open your Etsy shop
Select the button Open Your Shop after customizing all these above sections. Except for the default language in Shop preferences, you can make changes to other modifications.
The URL of your brand new Etsy store will be displayed in one of two formats as:
https://www.etsy.com/shop/yourshopname
https://yourshopname.etsy.com
This is the end of our instructions on how to set up an online store on Etsy. You can try placing an order to check whether your store transactions are smooth and flawless or not.
Conclusion
Top-notch features and functionalities of eCommerce platforms turn out to be a motivation for the growth of online selling. However, selecting a suitable item to display in live shops is not an easy job.
We have listed here 10 Best Selling Items on Etsy for your consideration. Take your time and decide which product can bring a significant profit to your online business on this platform. Besides that, we also give instructions on How to start selling on Etsy that walk you through all necessary steps.
In case you are planning to re-platform to Etsy from another existing one, LitExtension is a perfect choice. We are proud to be the world-leading company that helps you migrate your current store to Etsy flawlessly, securely.
Should you have any questions about our data migration service, don't hesitate to contact our customer support team or join our Fcebook Community as we are always willing to solve your problem anytime.