If you are interested in running a business on eBay or you want to find out the best selling items on eBay, don't miss this article.
It is certainly a good decision to start your eCommerce venture with this powerful marketplace. But before simply launching your online store on eBay, make sure you have determined your target customers and your products by researching what are the best selling items on eBay in each category:
Scroll down and explore the best selling items on eBay right now!
Let The Experts Help You Migrate With Ease!
Focus on growing your business and leave your migration in good hands with LitExtension All-in-One Migration Package. Let our Personal Assistant lift the weight of manual tasks off your shoulder and provide regular updates on how your project is going.
---
What's Trending on eBay? Discover Best Selling Items on eBay 2023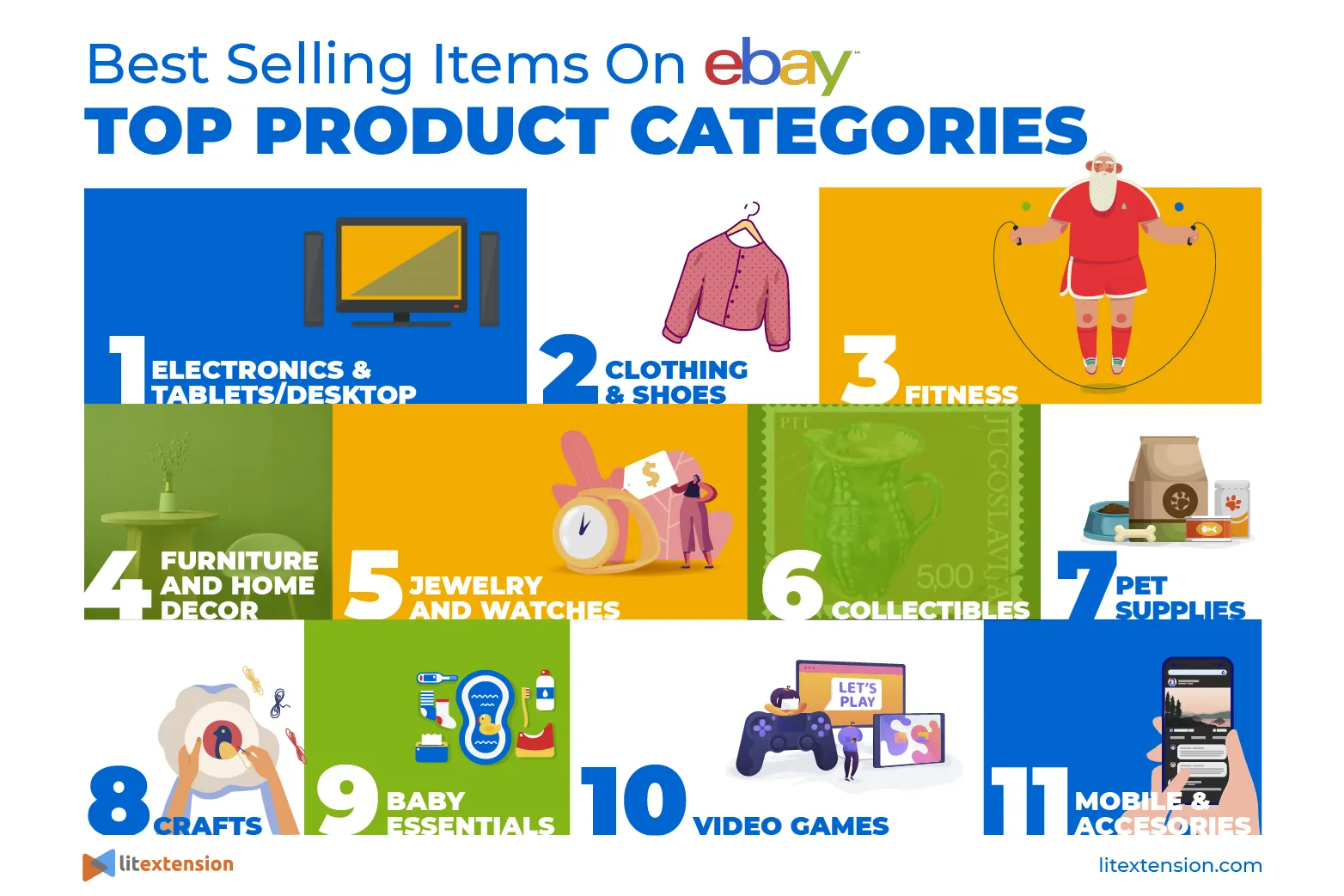 Electronics & Tablets/Desktop products are one of the best selling items on eBay.
These eBay trending items include speakers, headphones, and automated home technologies such as TVs, ovens, lights, and speakers, or Computers/Tablets & Networking, Tablet & eBook Reader Accs, and Laptop & Desktop Accessories.
Among them, Google Chromecast & Meta Quest 2 are the two hottest items. Besides, your shoppers tend to buy branded tech items from JBL, Sony Apple or Samsung, etc.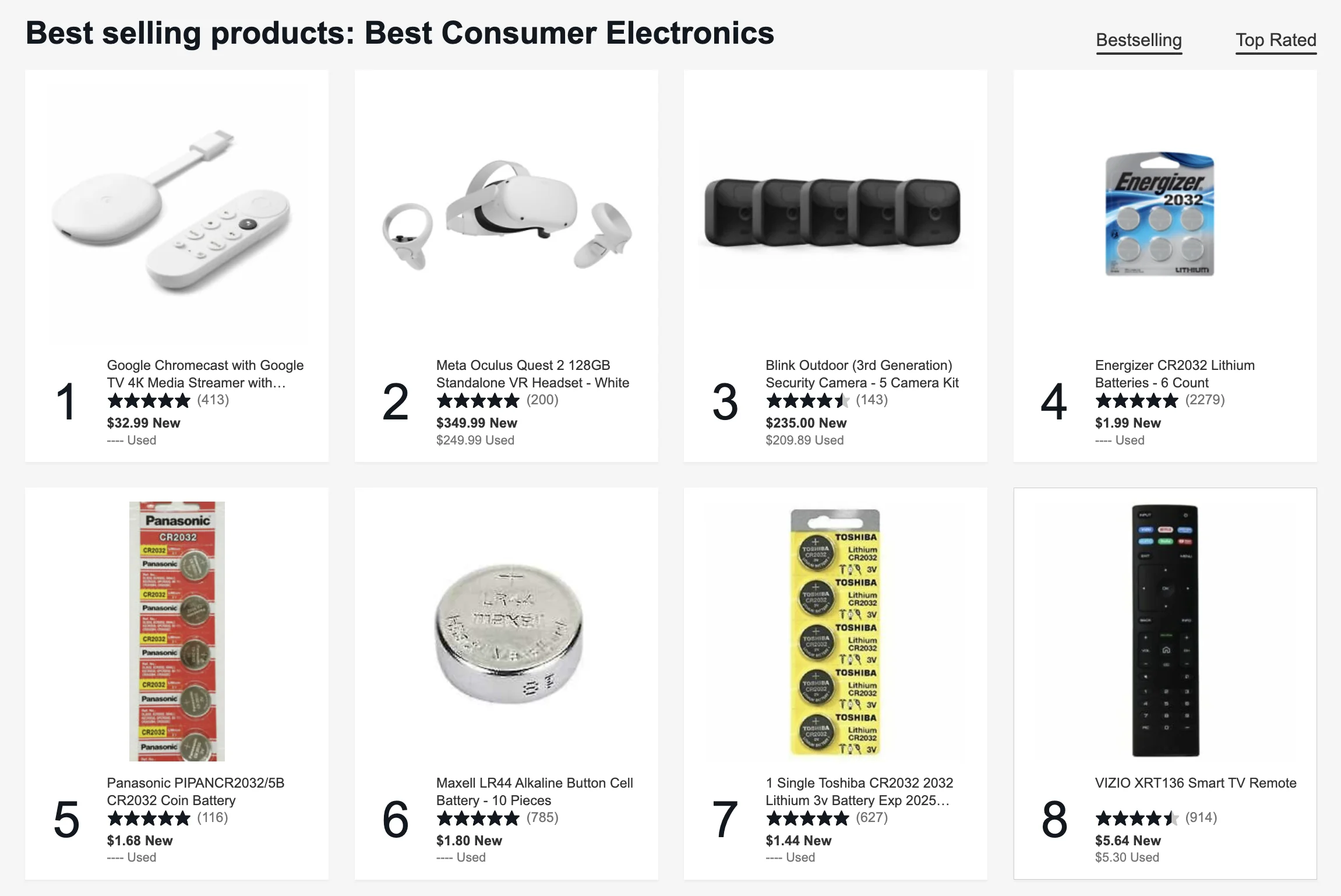 However, there are some worth-noting problems when selling these products:
DOA (Dead on Arrival issues). In fact, there are a number of failed products by default from your supplier. So if you don't wanna get bad reviews from your customers, you should check one by one yours.
Battery issues. If you sell battery-powered products such as laptops or Bluetooth speakers, you will face some problems relating to Lithium-Ion Batteries restrictions. For example, you need to meet the requirements for shipping services, weight limit, and so on.
Complexity of use. Depending on how complex your products are, you have to deal with customer support issues. It is because not all of your shoppers are good at technology.
If you don't cope with these issues wisely, you might receive bad reviews and complaints about your products/services from customers.
Current eBay trending items – Electronics & Tablets/Desktop category: Dell Chromebook 11, Lenovo 11.6″ 300e Chromebook, Apple MacBook Pro 14.2″ M1 Pro, Apple iPad Air, Lenovo Mini Computer PC, Apple Mac Mini Desktop, Name Brand 17″ Monitor LCD…
Clearly, Clothing & Shoes is an attractive industry for any merchant running a business on eBay. Lower digital barriers to entry for all clothing merchants offer the opportunity to market, sell, and fulfill orders globally and automatically. As a result, there's no doubt that clothing & shoes always make it to the list of eBay top selling items.
Best selling items on eBay in terms of Clothing grant the names of Women's Jeans, Men's T-shirts, and Men's hats.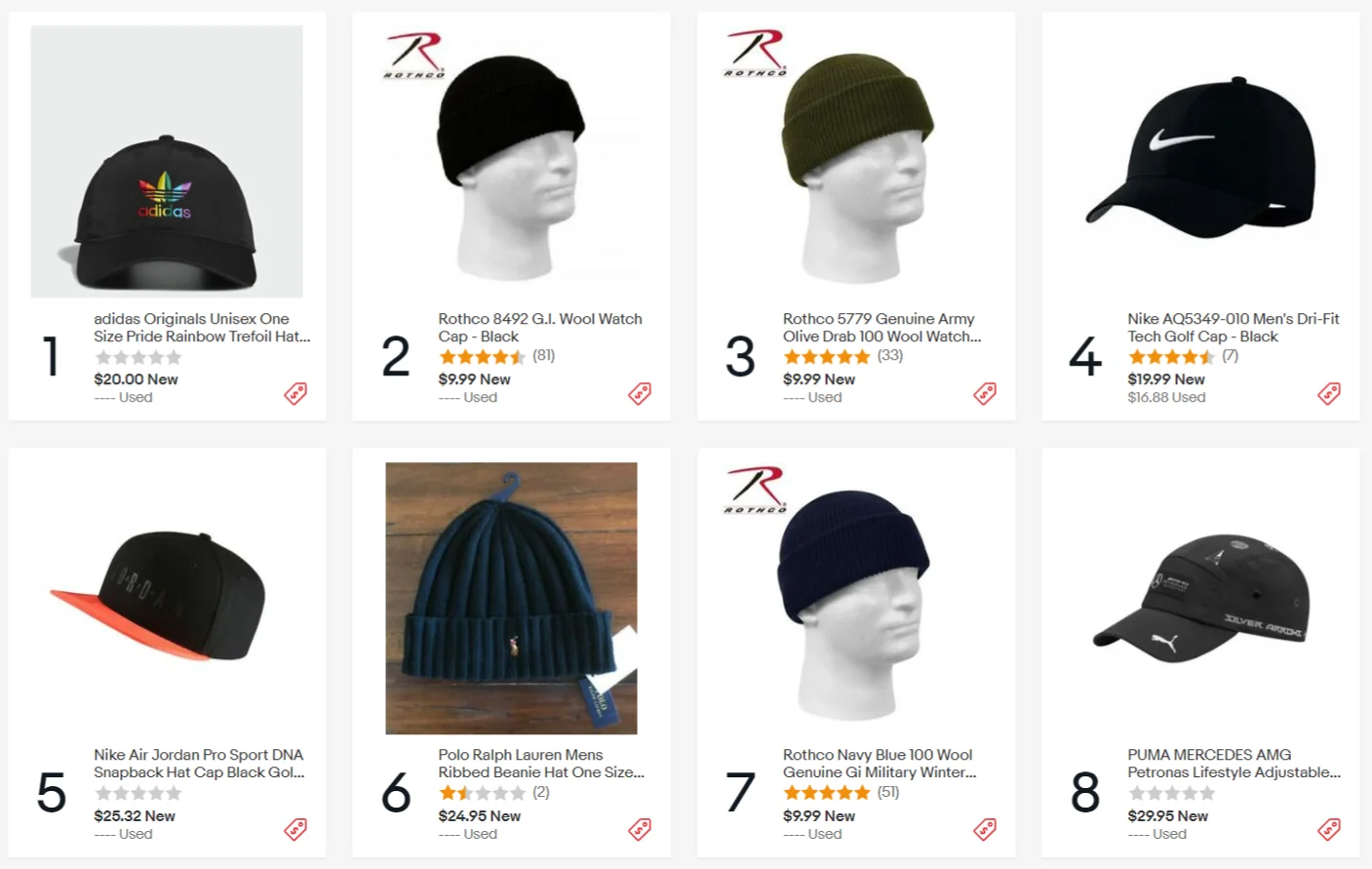 Most of the top selling items on eBay 2023 – in the category of men's hats are cap and wool watch cap styles. Plus, shoppers tend to choose items that have famous brands like Adidas, Nike or Rothco.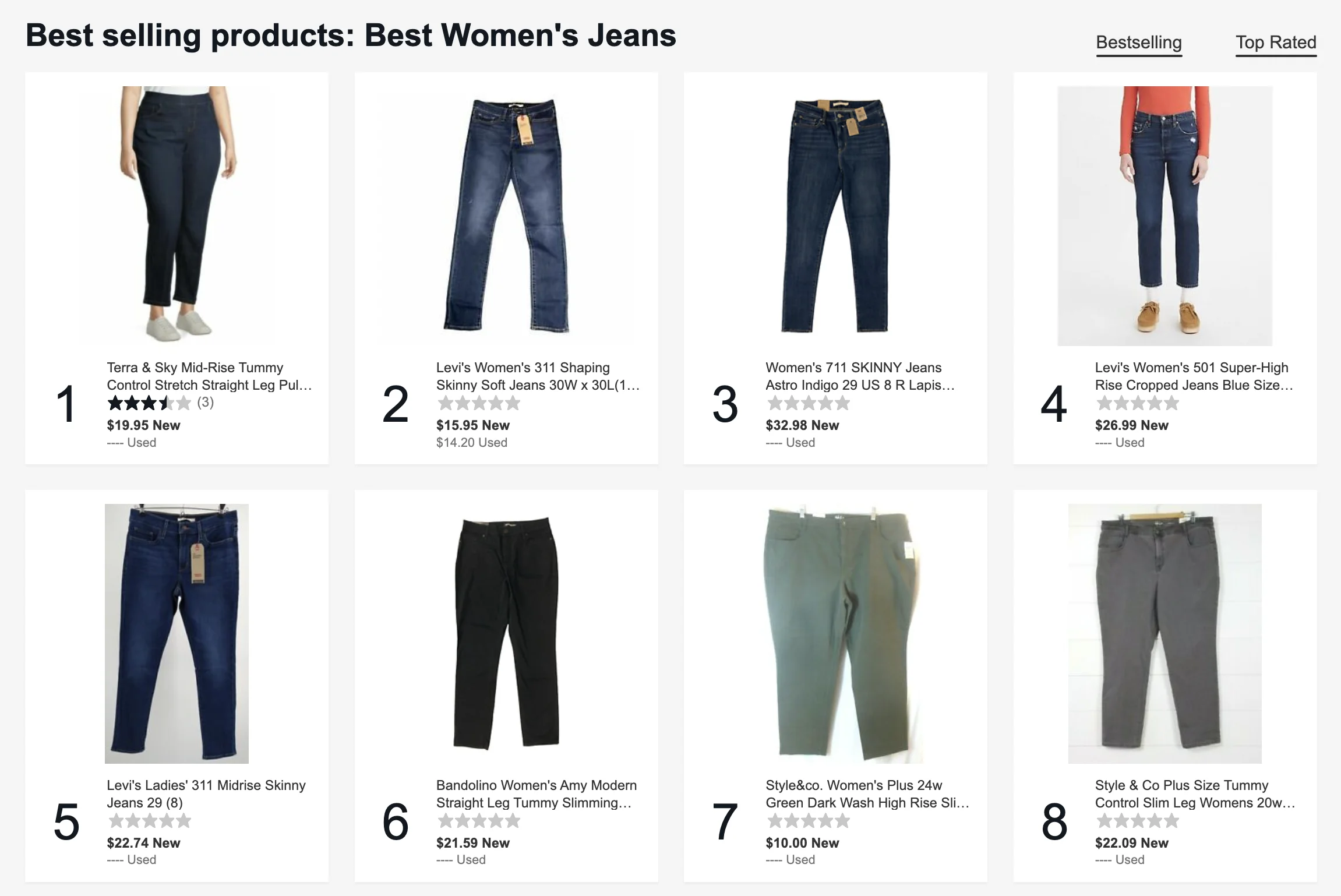 About Shoes, the most sold items on eBay are Sneakers and Running shoes that are made by famous brands like Nike, Adidas, and Puma. The medium price for these best selling Men's Athletic shoes is $54.3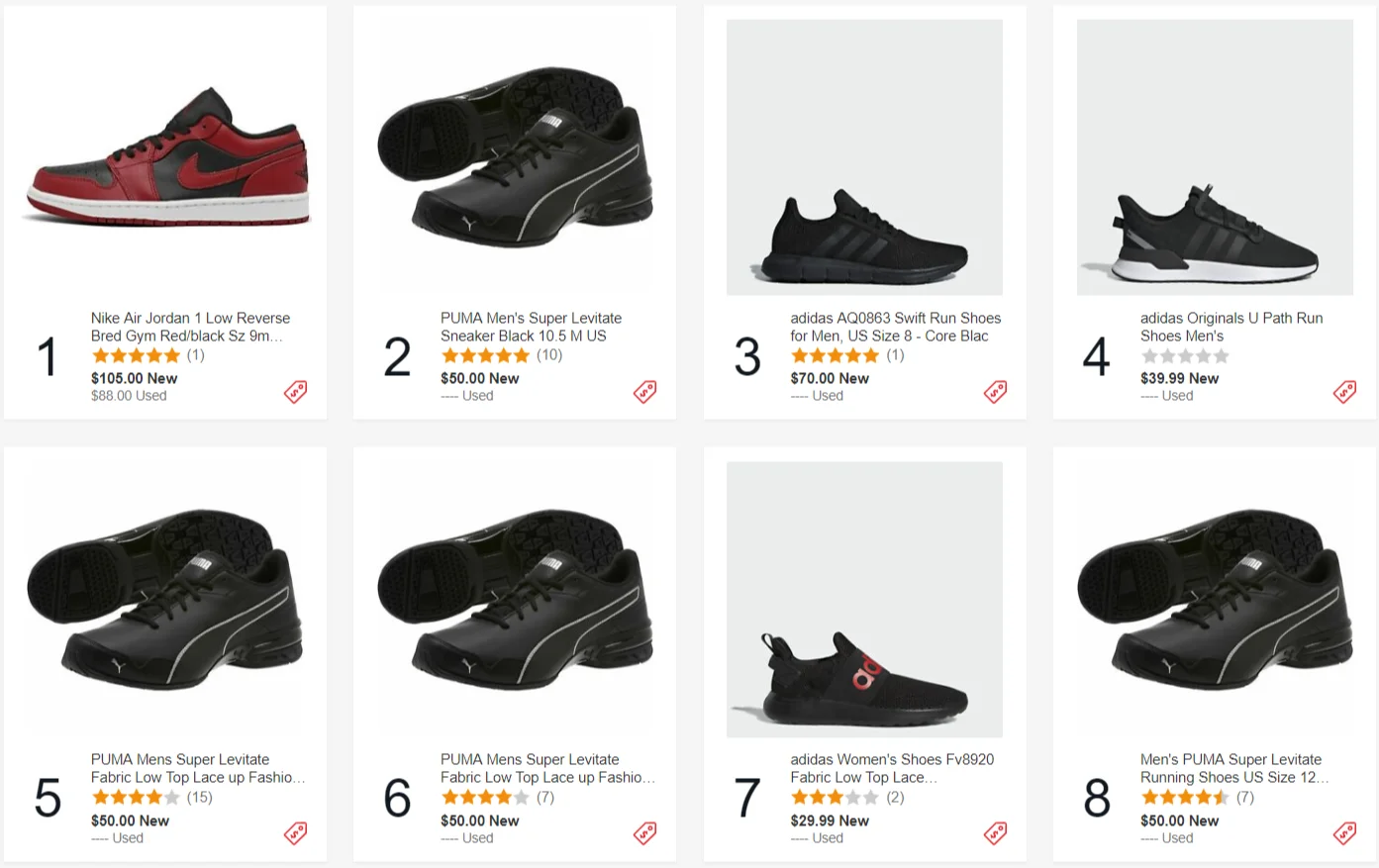 But wait! There are some notable things if you want to sell these eBay best sellers:
Large MOQs (Minimum Order Quantities). There are a bunch of online merchants importing clothing from China and then selling them on eBay. If you want to have your own brand's clothes, those suppliers might ask you for high minimum quantities like 500 or even 1000 products. It seems impossible to those who have a small budget.
Sizing issues. Although you give detailed sizing instructions, it's unavoidable that you may need to deal with returned products that don't fit your shoppers.
Overstock. Please remember that changes in season bring changes in fashion. It means it's hard to avoid overstock. Therefore, you should manage your stock carefully and launch essential sales promotion campaigns.
eBay trending products 2023 –  Clothing & Shoes category: PUMA Women's Power Leggings, Crocs Kids' Baya Graphic Clogs, Birkenstock Arizona Essentials EVA Mens Sandals,…
Today, more and more people do fitness to be stronger, have a healthy lifestyle, and get a well-built body. Therefore, Fitness products like yoga equipment are becoming one of the best selling items on eBay.
According to eBay, best selling Fitness Equipment and Gear products are Inversion Tables, Aerobic Steps, and Suspension Trainers. They are the home fitness equipment that the shoppers can easily buy and do exercise at home conveniently.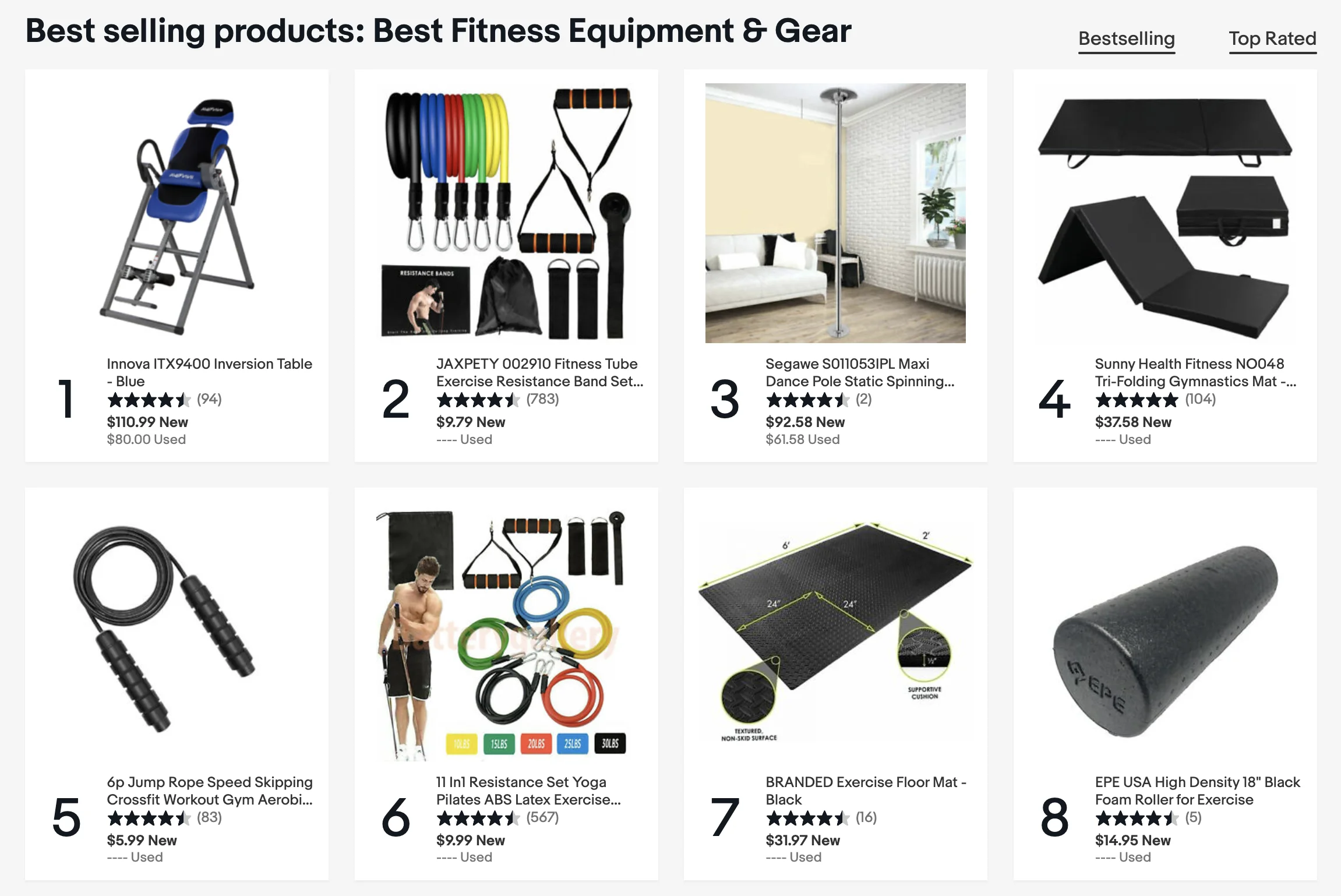 However, there are a couple of particular challenges that only exist in the fitness industry that you should be aware of:
Technical specifications. Each fitness product is for some specific exercises only. Depending on the usage and technical complexity of the fitness products you sell, you have to show these specs in the neatest, most organized way possible.
Industry competition. Beside dealing with other fitness sales companies, you also have to cope with lenders/renters. In that case, make sure to distinguish yourself by offering better deals such as post-purchase services, return policy, maintenance and guarantee if necessary.
Service and repair plan for equipment. Similar to other types of equipment, fitness equipment has its own lifespan. The main challenge here is balancing this with your cost to keep a reasonable profit margin, especially when the price is such a major determining factor in whether or not you win more sales.
Furniture and Home Decor are top selling items on eBay in the Home and Garden industry and witnessing robust growth all over the world. Due to the rapid growth of the real estate industry, the sharing of decor trends and other factors, the number of customers for these products is increasing and more enormous.
Home furniture, Afghans & Throw Blankets, and Bookends are the hottest products of Furniture and Home Decor.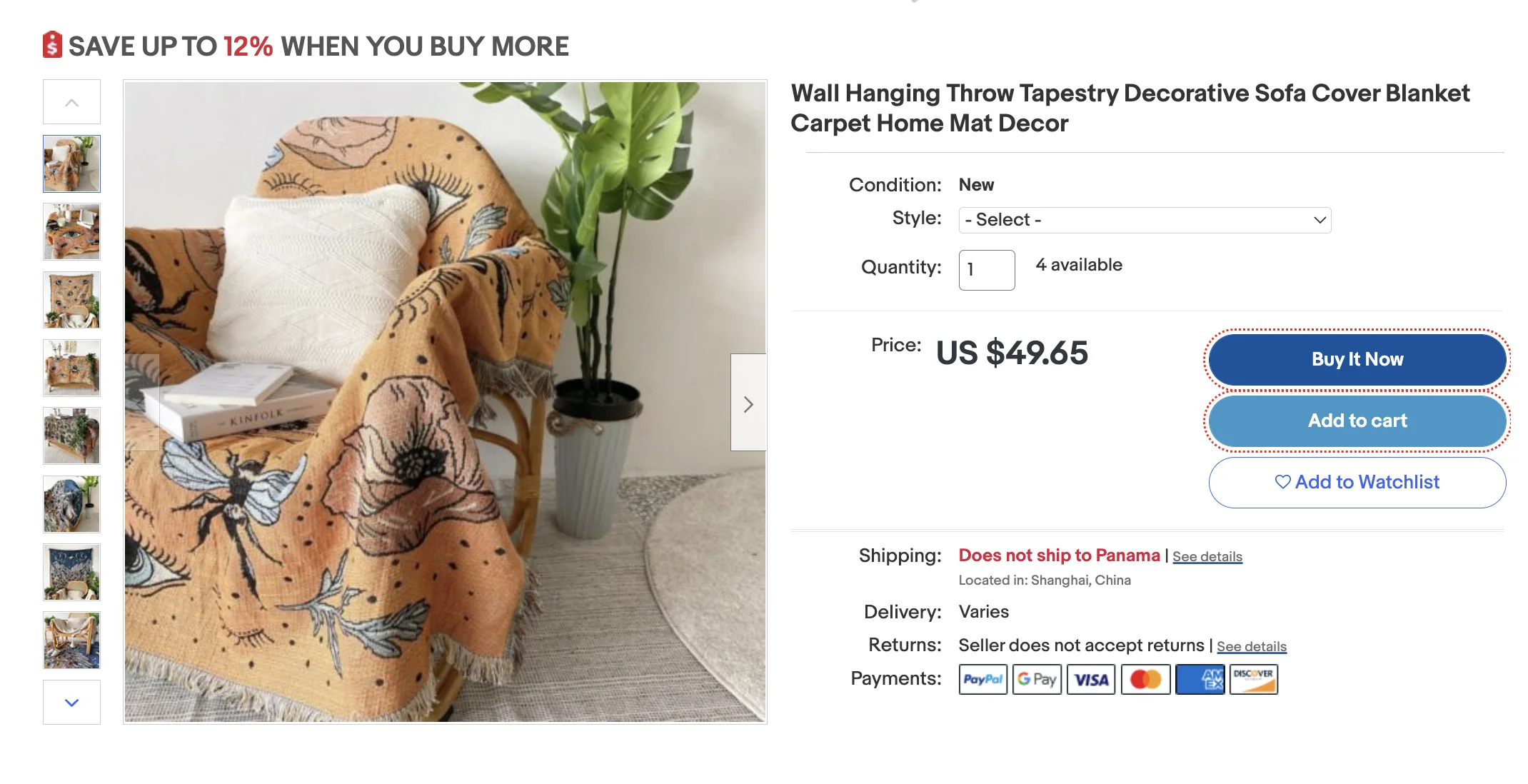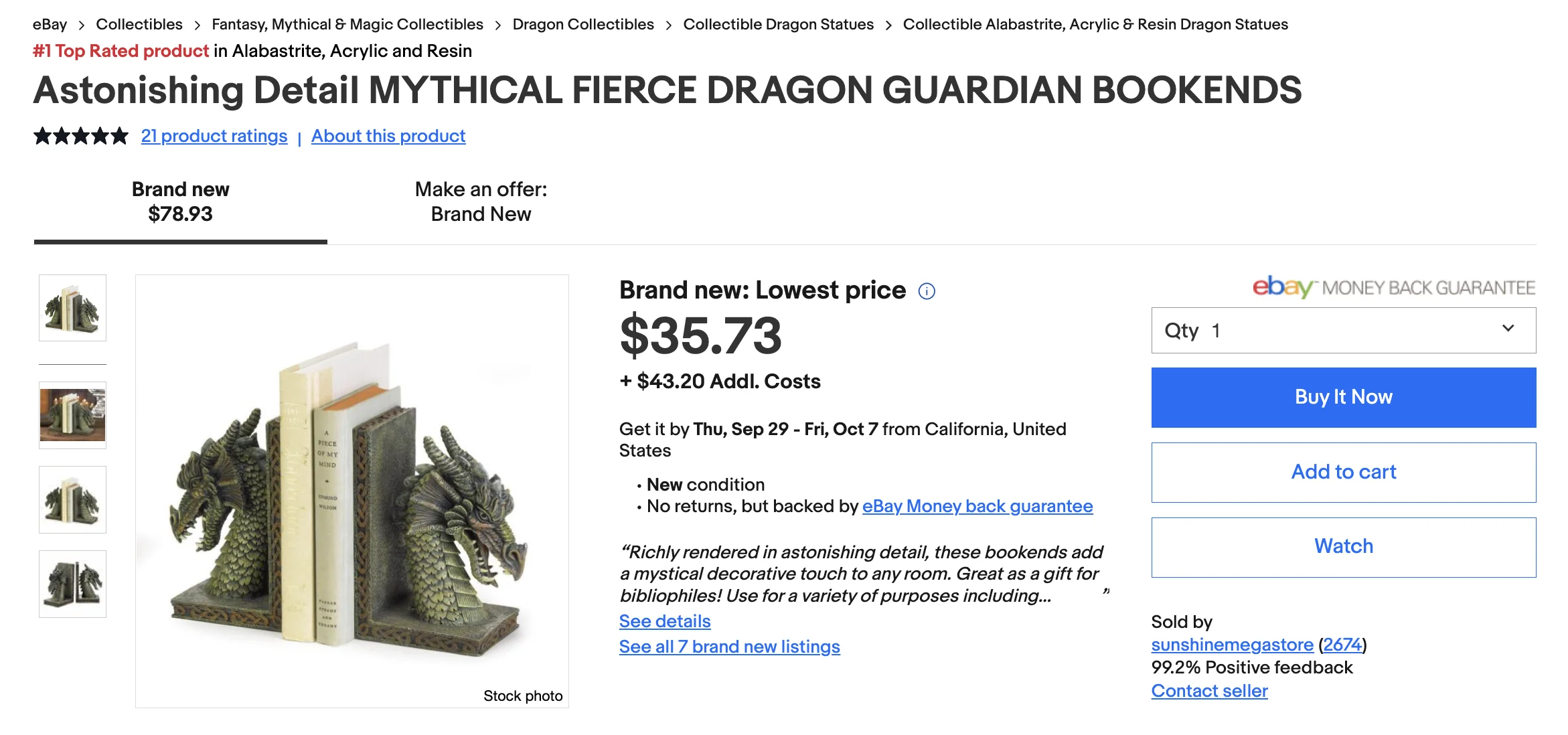 Before choosing products in this niche to sell on an online platform like eBay, you should be aware of the following issues:
Shipping fee. The shipping fee also depends heavily on the size and weight of your products. Meanwhile, the majority of furniture is made of wood or other heavy materials, which pushes your furniture shipping cost up a lot.
Delivery time. It can take up to weeks or months to ship big items to the door of your customers.
Products sourcing. It is really hard to find good styles at good prices online. A lot of online furniture is unattractive. Affordable wholesale furniture is generally badly designed, so it is hard to curate good design relative to the better multi-channel retailers.
Some current products that are trending on eBay – Furniture & Home Decor: Lamps, Lightning & Ceiling Fans, Rugs & Carpets, Posters & Prints, Decorative Clocks,…
Want to Migrate to Shopify?
If you are intending to migrate to Shopify, LitExtension offers a great migration service that helps you transfer your data from the current eCommerce platform to a new one accurately, painlessly with utmost security.
According to Statista, global online jewelry sales are predicted to reach a market value of $340 billion by 2023, later reaching $645 billion by 2035. Jewelry and Watches are lightweight, easy to ship compared to some Electronics shipping restrictions. So, they are the best things to sell on eBay.
The winning products in Jewelry & Watches categories are Fashion Necklaces & Pendants, Wristwatch Bands, and Wristwatch.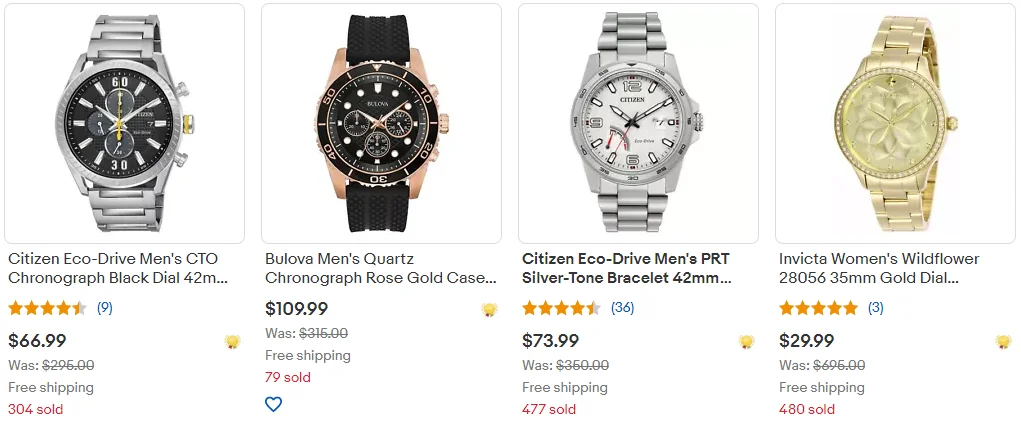 There are some things worth noting if you are going to run a jewelry & watch online store:
Designs. Make sure everything on your site, from the site interface to product images, has a good look. Let's upload high-quality product photos to improve the user experience and sell more.
Auction style listings – an excellent feature for selling jewelry, especially for secondhand pieces. eBay Auction allows you to choose a start price for an item. The shoppers are interested and then place bids. When the auction ends, you can sell the product at a higher price.
Some eBay top selling items in Jewelry & Watches category: Fashion Sport Men's Stainless Steel Case Leather Band Quartz Analog Wrist Watch, Diamond Solitaire Pendant Necklace,…
TV & Movie Character Toys are the best selling items on eBay under the Collectibles category. In 2021, the worldwide toys and games market was valued at approximately US$305.57 billion.
Based on toy and gaming trends reports, the effect of cartoon characters from TV shows and movie franchises like Star Wars, Marvel, etc increased demand for themed toys and games.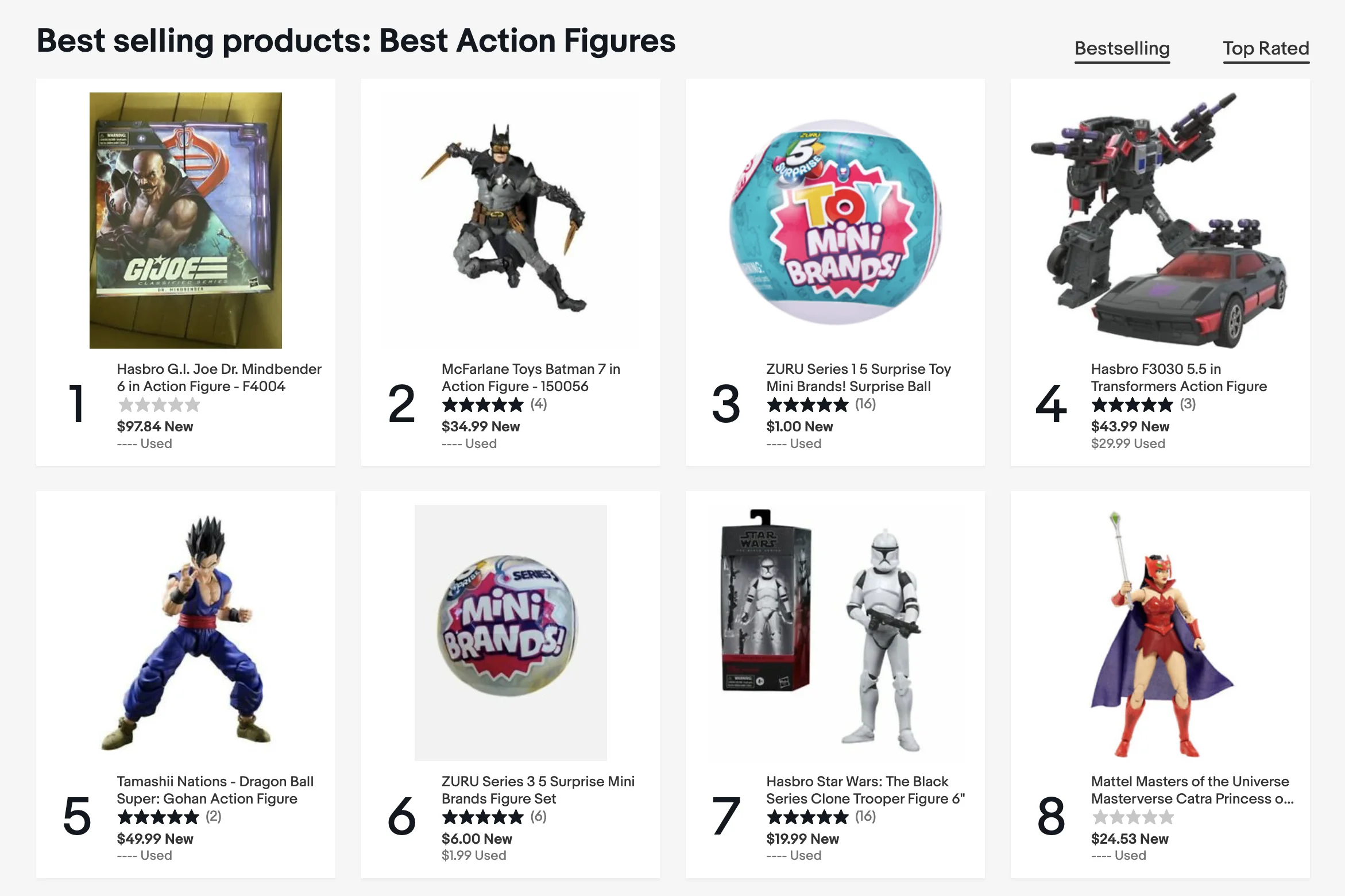 Most selling products on eBay – Collectibles: Hasbro G.I. Joe Dr. Mindbender 6, McFarlane Toys Batman 7, ZURU Series 3 5 Surprise Mini Brands,…
Is now the time for pets?
Sure! According to CommonThread, the pet supplies industry's global growth is skyrocketing and the Online Pet market is blooming. There are thousands of store owners who sell pet supplies on eBay and get considerable profit from these products. The customers consuming pet supplies are varying, from children to adults, every gender and occupation.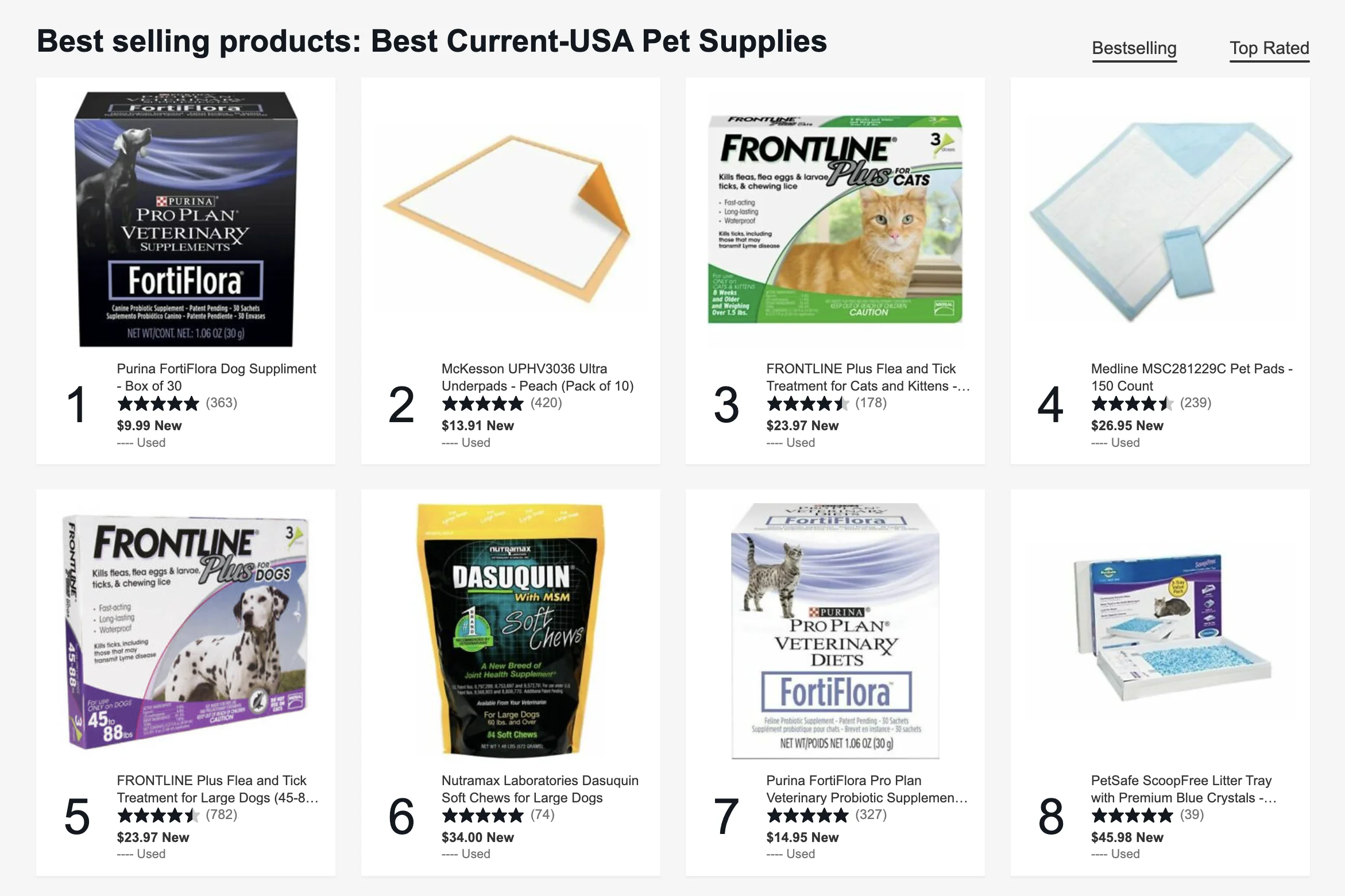 In terms of Pet Supplies, we shouldn't miss the place for Dog and Cat Supplies. These products are the best selling items on eBay, including dog food, cat food, and cat tree.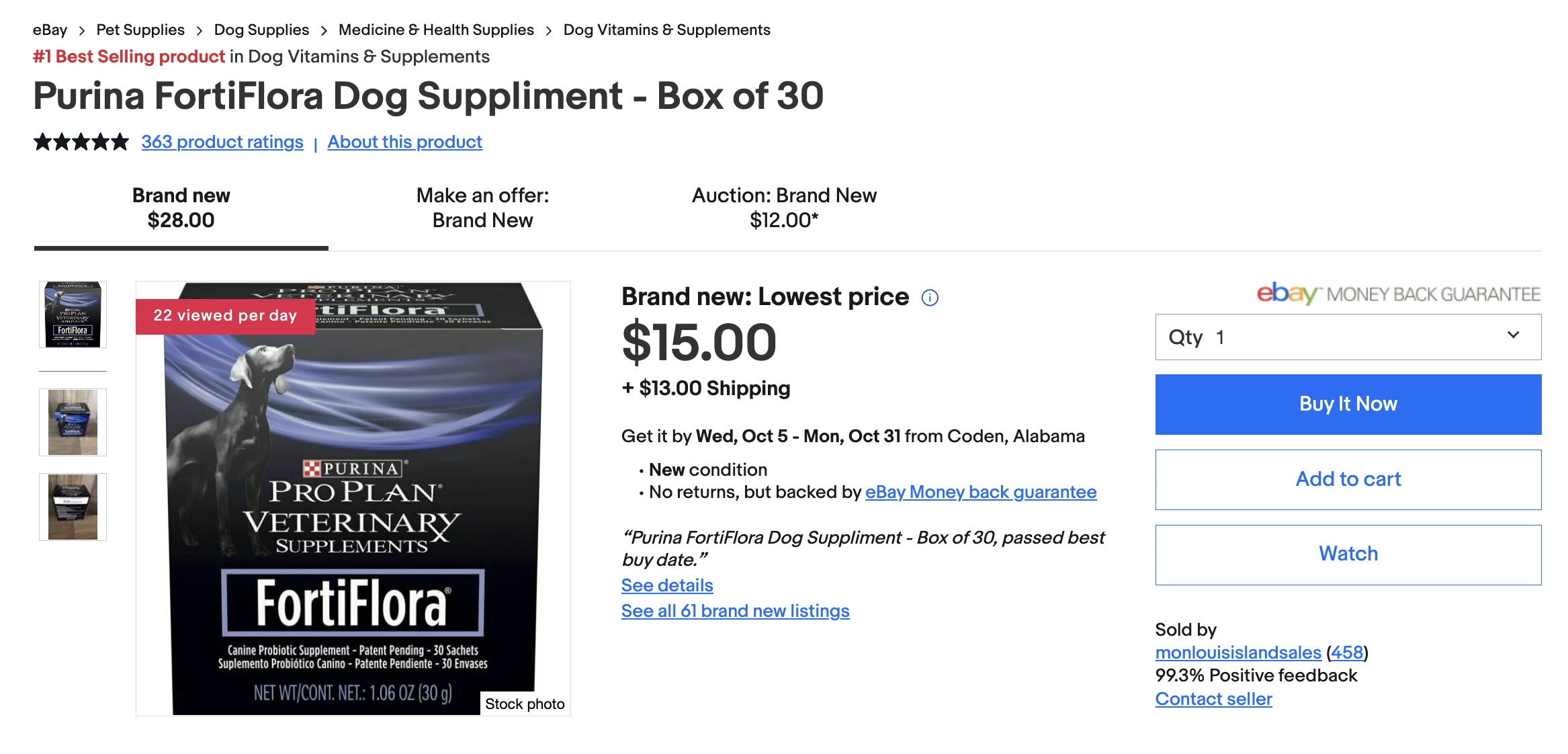 Most selling products on eBay – Collectibles: Hasbro G.I. Joe Dr. Mindbender 6, McFarlane Toys Batman 7, ZURU Series 3 5 Surprise Mini Brands,…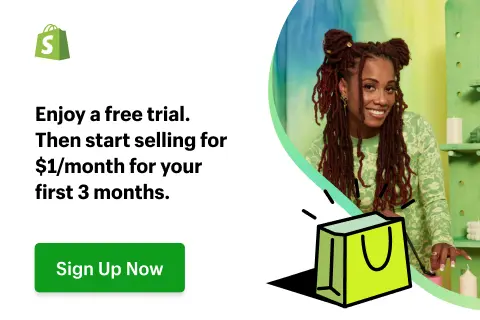 During the COVID-19 Pandemic, people have more free time to seek out Do It Yourself (DIY) crafts. Having an increasing consumer interest, the craft category is also one of the best selling items on eBay. You can search for 5,100,000+ results for craft items on eBay, divided into different categories.
These are the most popular Crafts categories on eBay:
Beads & Jewelry Making
Loose Beads → Stone
Beads & Jewelry Making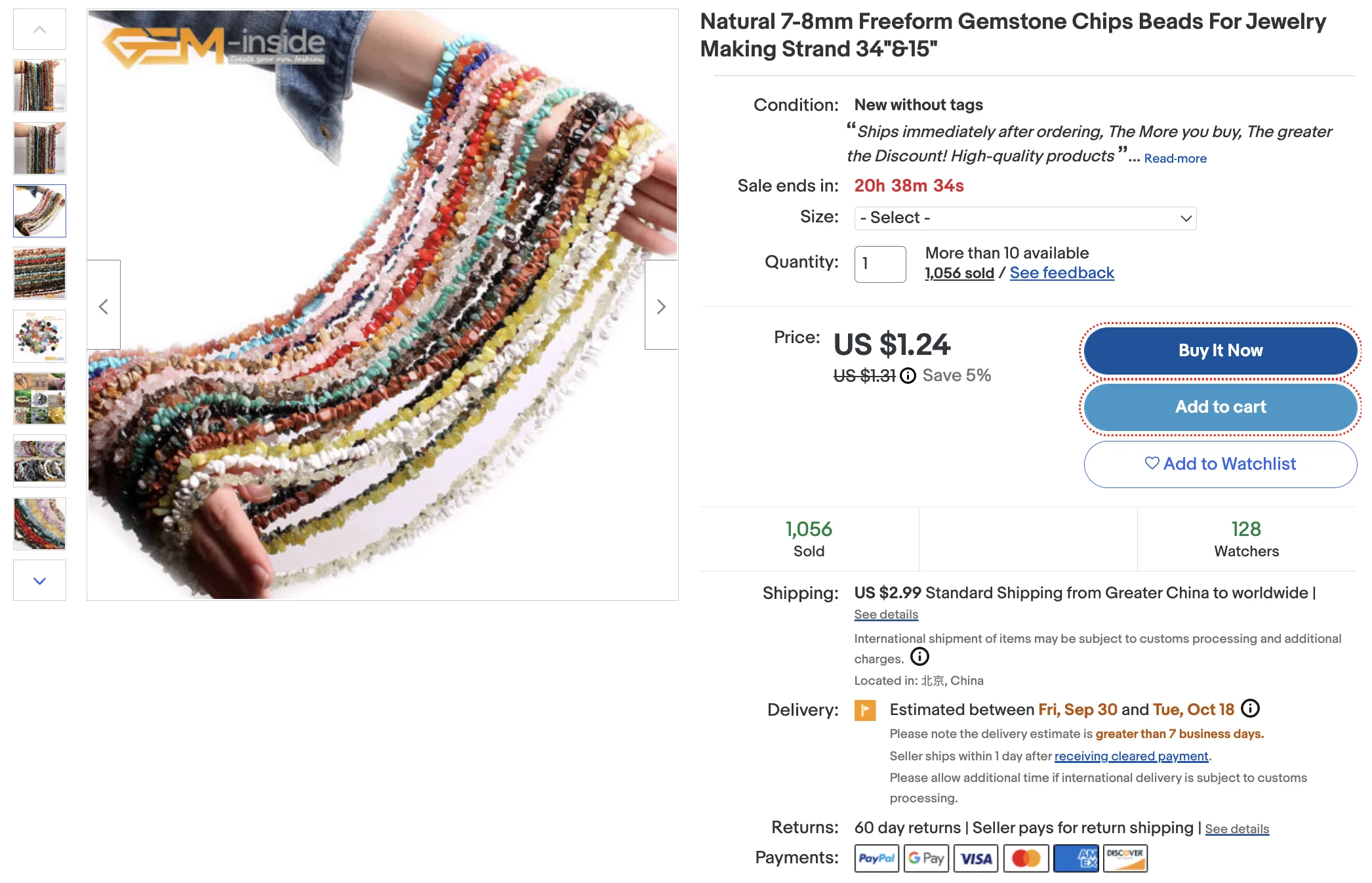 eBay most selling items – Crafts: Teardrop Faceted Crystal Glass Loose Crafts Beads, Rondelle Faceted Crystal Glass Loose Spacer Beads, Natural Gemstone Round Spacer Beads,…
Another eBay best seller is Baby essentials, with about 2,100,000+ results. Once searching for "bags and purses", you'll find hundreds of recommendations on gender, brand, material…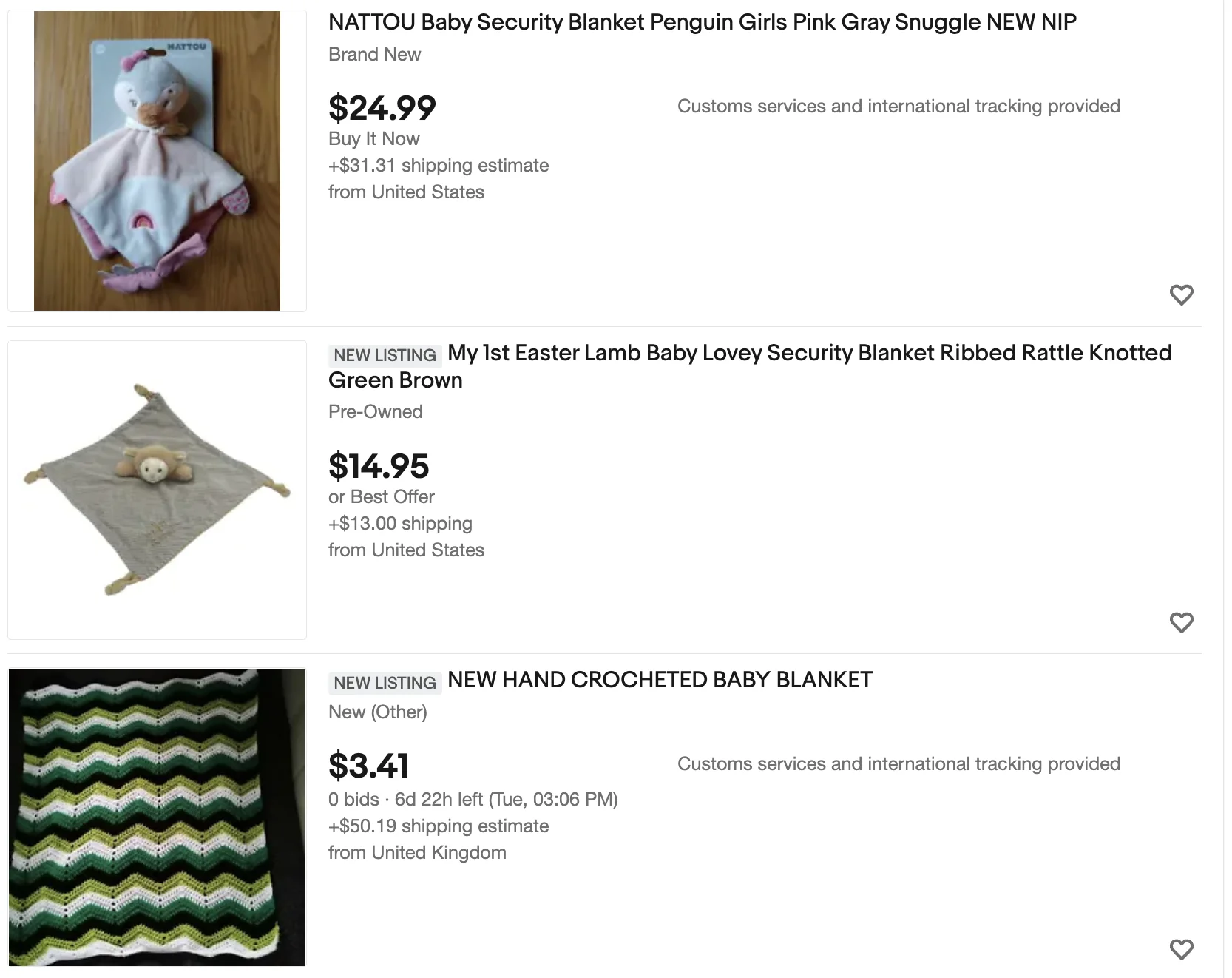 Some current eBay winning products – Baby essentials: Enfagrow Enspire Toddler Nutritional Drink, Medela Freestyle Flex Double Electric Breast Pump, JOHNSON'S Baby Powder, ToyThrill DT9917 Musical Duck Toy – Yellow,…
As most millennials spend their time playing games, there exists an increasing demand for video games. Most of the common game controllers which are the best-sellers are Microsoft, Sony, and Nintendo.
The most popular Video game items on eBay include Video Games, Video Game Consoles, and Video Game Merchandise.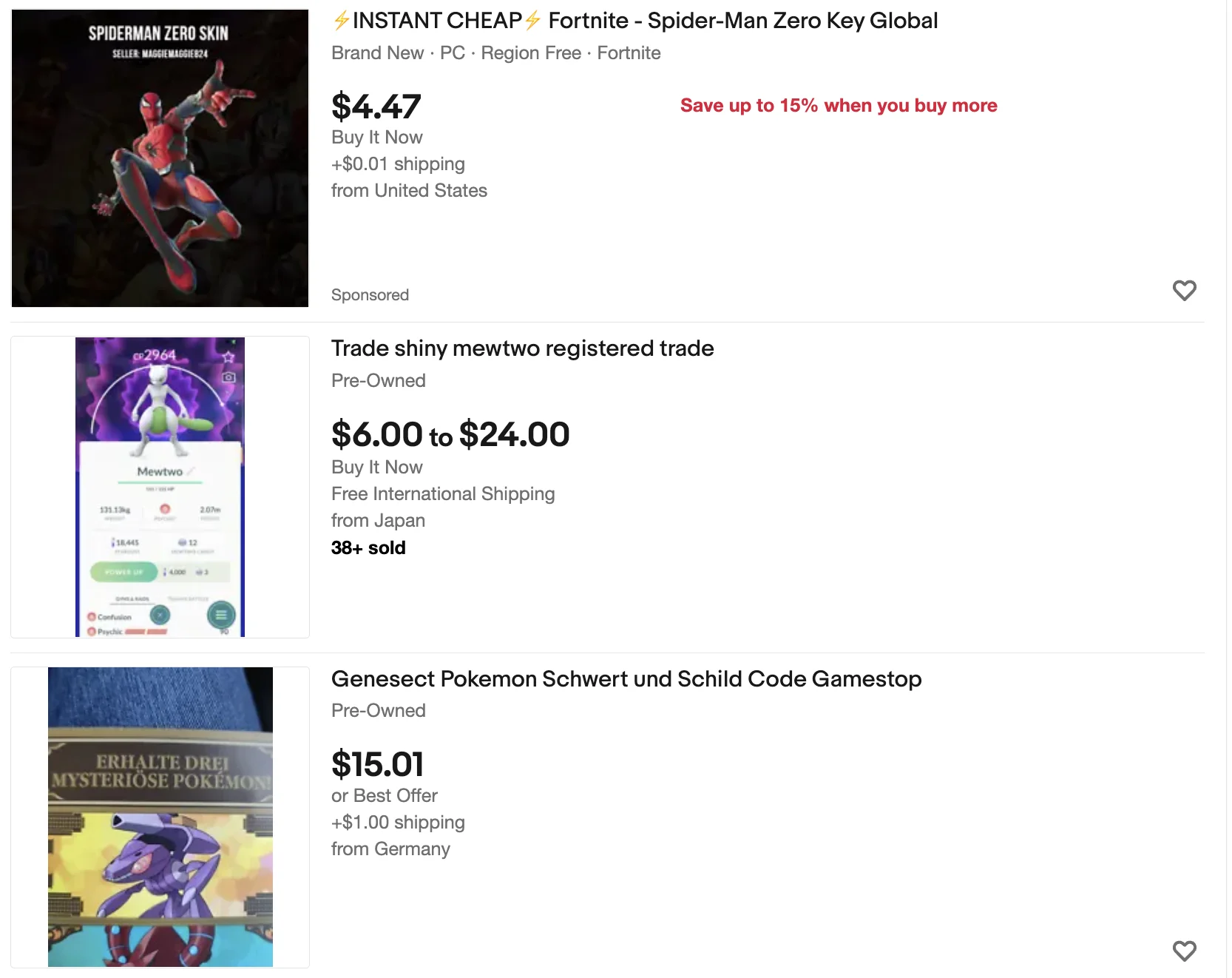 Most bought items on eBay – Video games: Splatoon 3 – Nintendo Switch, The Legend of Zelda: Breath of the Wild – Nintendo Switch, Forza Horizon 5 (Xbox One/Series X, 2021), Cyberpunk 2077 – Sony PlayStation 4,…
Just like Electronics & Tablets/Desktop, Mobile & Accessories are one of the best-selling ones which are quite popular in today's digital age. These are the most popular Cell Phones, Smart Watches & Accessories categories on eBay:
Cell Phones, Smartphones & Parts
Cases, Covers & Skins
Headsets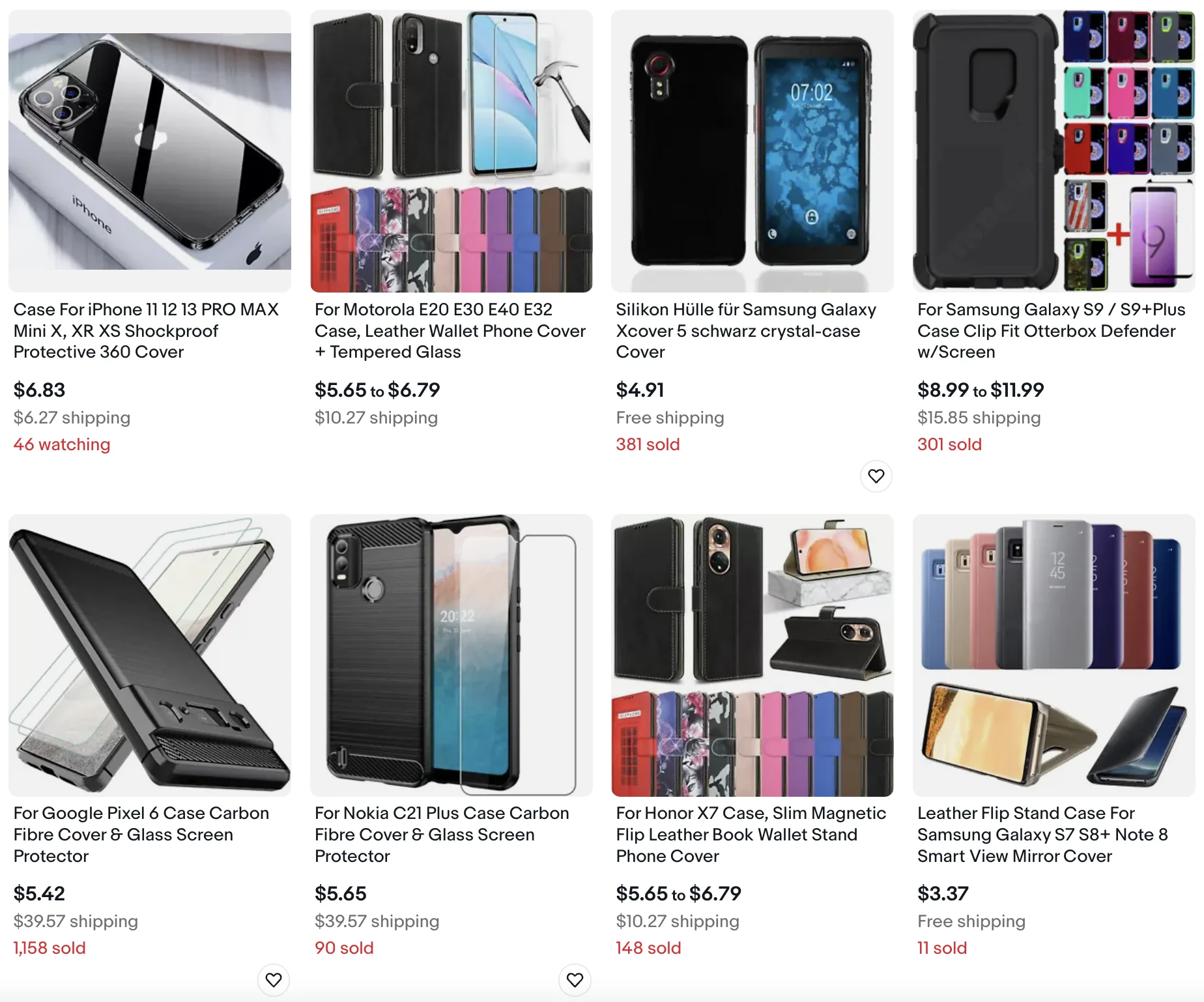 Most bought items on eBay – Mobile & Accessories: Liquid Silicone Case, Luxury Leather Card Holder Wallet Flip Case Cover for Samsung, Apple AirPods Pro/3rd Generation Case Silicone Protector Shockproof Cover,…
Other eBay Best Selling Items on eBay in 2023:
#13 Vitamins, Minerals & Lifestyle Supplements
#14 Antique Jewelry
#15 Loose Diamonds & Gemstones
#18 Women's handbags
---
Best Selling Items on eBay During COVID-19 Pandemic
It's undeniable that the COVID-19 Pandemic has had an enormous impact on eCommerce merchants. So at this time, eBay top selling items had changed dramatically and led to increasing demand for certain product categories and online shopping.
Many merchants leap at the opportunity to quickly broaden their customer base with multichannel selling. Connecting eBay with different channels like Shopify eBay integration, WooCommerce eBay integration, and so on could be a good idea to sell on eBay during the Pandemic.
eBay, one of the largest online marketplaces, has been busier thanks to the rapidly evolving consumer behavior. This is the chance of a lifetime for online retailers to start selling on this booming marketplace and generate record profits.
What sells best on eBay during the COVID-19 pandemic? Below is the list of best selling items on eBay: 
Face masks
Hand sanitizer
Dumbbells
Webcams
Weight Plates
Pull Up Bars
Clippers and trimmers
Puzzles
Books
Crafts

---
How to Start Selling on eBay?
Now you know the best selling items on eBay under different categories. If you are selling these winning products on other channels but not eBay, it's time to venture and increase sales with eBay.
You can follow the detailed guide released by eBay to create your own eBay store and sell your products on this platform.
Especially, if you have a Shopify store and now you want to sell on both eBay, Shopify eBay integration makes it easy. In 2017, these two giants partnered to launch an integration that allows Shopify merchants to list and sell their products on eBay directly from the Shopify account.
To discover the great benefits of this integration and see how to sell on eBay through Shopify, let's visit Shopify eBay integration.
Besides, you can consider migrating data from your current store to eBay. Not only does this help you save time advertising products but also attracts more potential customers to this marketplace. Currently, LitExtension – the #1 Shopping Cart Migration Expert comes as an ultimate solution for you to migrate to eBay without distorting your previous store. This is a great opportunity for you to expand your business, so don't miss it!
---
Best Selling Items on eBay: FAQs
It's completely free to list your products on eBay. Besides, $18.5 billion worth of goods were traded on eBay in Q2 2022. So, give eBay a change right now, and maybe this marketplace could be your hero!
Here is the list of fast selling items on eBay:
Refurbished
Sneakers
Clippers & Trimmers
Dumbbells
Weight Plates
Puzzles
Tablets & eBook readers
Crafts
Consoles
Collectible Card Games
Here are the list of prohibited & restricted items on eBay:
Adult items
Alcohol
Hazardous materials
Human body parts
Military items
Police-related items
Stamps
Tobacco & e-cigarettes
etc..
---
Bottom Line
Hope that you may have had an overview of products that are proven to be in good demand on eBay. As other sellers are blooming with the best things to sell on eBay, you also have a good chance to boost your online sales.
Besides, each niche has its own problems that you have to cope with. Taking notice of our notes in each category will help you take a closer step to your success on eBay.
Hopefully, the best selling items on eBay that LitExtension mentioned above can give you some useful ideas on what to sell on eBay for your future store.
If you have any questions, please feel free to contact our dedicated 24/7 support or join our Facebook Community for more support. Thanks for reading and see you in the next articles.
You might also be interested in reading: