Founded in 2008 by Daniel Kerr, for over a decade now, OpenCart has been used by 421,853 store owners. A considerable number of websites from small businesses to large enterprises are using the OpenCart platform to run their businesses.
OpenCart is an open-source platform that offers no monthly fee, a wide range of apps and extensions, customization, and flexibility. In addition, the open-source platform has a management program that can manage multiple online stores from a single back end. It allows users to manage every aspect of their new online store from any device, anywhere in the world. So, if you are seeking an eCommerce platform for your online business, OpenCart could be a suitable option for you. Find more about OpenCart review features here.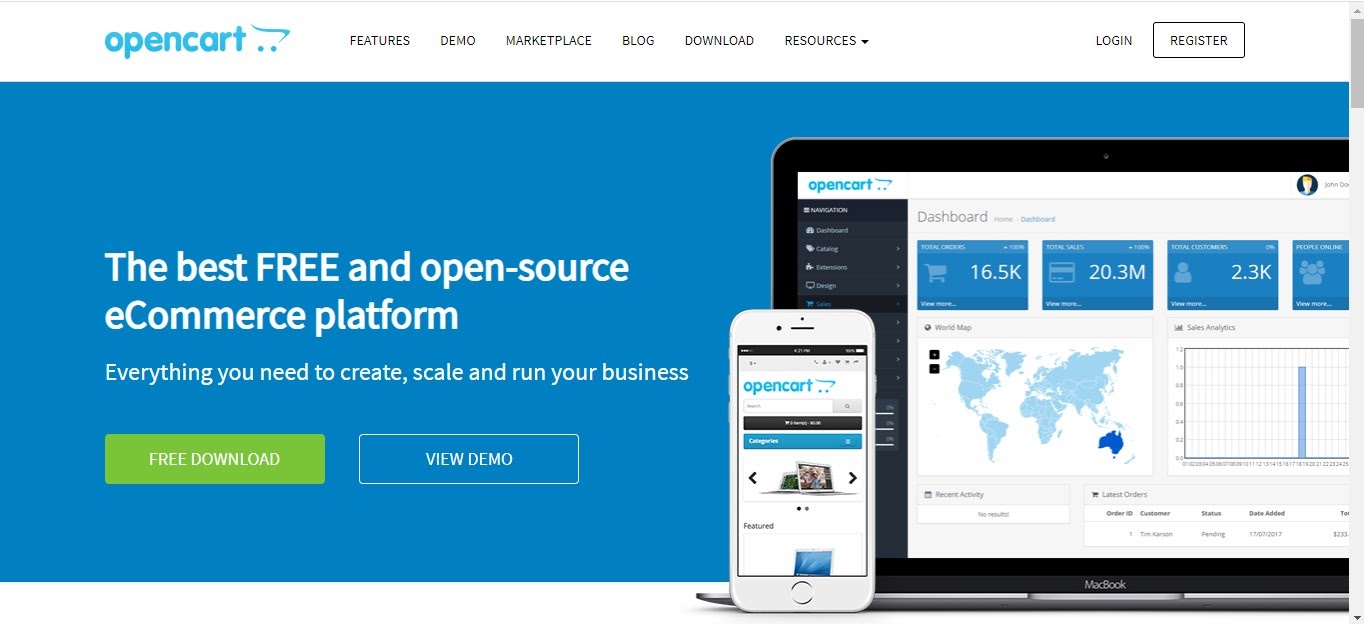 To run an OpenCart store, you have to consider carefully choosing a web hosting for installing extensions. Besides that, one of the essential factors that will bring your website a stunning appearance is choosing a suitable theme.
Currently, OpenCart is offering a variety of themes which include both free and paid options for you to choose from. In addition, you can go through some renowned marketplaces such as Themeforest and Templatemonster for your reference.
If you feel overwhelmed with a large number of OpenCart themes, keep on reading this article as I'll show you the best OpenCart themes in 2020.
What are the best OpenCart themes and why they are on the list?
Here are the best themes that I've chosen for you. I've assessed these themes based on the criteria that matter the most including the number of its users, sales, reviews, and features.
Materialize Template
Journal
Shoppica
Fastor
Sellegance
Sellya
eMarket
OXY – Fashion
In this list, Both Materialize Template and ImpulsePro2 are free themes, they are all highly appreciated by customers on the OpenCart website. The others are paid options which are all in the top bestsellers on the Themeforest marketplace. So, what makes these themes so outstanding from the thousand options out there? Follow me to dive deeper into these templates.
Materialize Template
Materialize Template
The theme has been using the Materialize framework which is a modern responsive CSS framework based on the principles of material design from Google. Google's goal is to develop a system of design that allows for a unified user experience across all their products on any platform. Therefore, the theme will bring about a stunning view and responsiveness for your site both on desktops and mobile devices.
Live preview: materialize.myefforts.ru/admin (login: demo, password: demo)
Downloads: 15516
Compatible with OpenCart: OpenCart 3.0.0.0, OpenCart 3.0.1.1, OpenCart 3.0.1.2, OpenCart 3.0.2.0, OpenCart 2.3.0.0, OpenCart 2.3.0.1, OpenCart 2.3.0.2.
Price: Free
Highlight features:
Beautiful and adaptive design: Thanks to the Materialize framework.
Multi-language support: English, Russian, Ukrainian, Turkish, Romanian and German.
Blog integration module: This is a powerful feature of the theme, you can write articles/news/posts to provide more information relating to your products. Besides, this module allows you to easily create categories and subcategories, support humanly understandable URL Default, and so on. These capabilities will help your website to get a higher SEO ranking.
Yandex.Map is integrated on the contacts page with automatic determination of the address of the store.
Quick order integration: the module adds a "Quick order" button to the product page. The minimum and the mandatory input field is the customer's phone (additional fields are configured in the administrator part), after which the module sends a message to your work mail (you need to register the order yourself).
Journal
Journal is the best selling and best rated OpenCart theme in the world, it's integrated with outstanding features and offers the most customizable designs. Here are some of the top-notch features of this theme.
Journal Theme
Sales: 24,696
Compatible with OpenCart: OpenCart 3.0.2.x, OpenCart 3.0.1.x, OpenCart 3.0.0.x, OpenCart 2.3.0.x
Price: $59
Highlight features:
Various design tools: You can highly customize your OpenCart interface without a single line of code with the tools this theme offers. There are various pre-designed options to import into your store, after that you can customize as needed. Advanced page builder helps you build any imaginable layouts with rows, columns, and modules on any page. Besides that, you can add any HTML content to any product pages in various dedicated positions with blocks and tabs.
One-Page Checkout: Fully customizable quick-checkout integrated into Journal admin.
Performance tools: The theme includes many advanced performance tools such as caching, static assets, etc.
Filters module: This is an advanced Ajax product filtering system which can filter products by Price, Category, Brand, Options, and Attributes.
Special Modules: Pop-ups, notifications, header notices, bottom fixed menus are all included.
Shoppica
Shoppica is a fully responsive multi-purpose OpenCart theme with a powerful backend and fashionable design. Its interface is user-friendly which is suitable for any merchants with or without a technical background. In addition to that, the team provides support for free, they state that they will do whatever it takes to fix any possible issues that may come up or help their customers. So, this is a huge plus, right?
Now, let's see what are the options this theme has to offer.
Shoppica Theme
Sales: 6440
Compatible with OpenCart: OpenCart 3.0.2.x, OpenCart 3.0.1.x, OpenCart 3.0.0.x, OpenCart 2.3.0.x, OpenCart 2.2.0.x, OpenCart 2.1.x, OpenCart 2.0.x, OpenCart 1.5.x, OpenCart 1.5.6.x, OpenCart 1.5.5.x, OpenCart 1.5.5, OpenCart 1.5.4, OpenCart 1.5
Price: $54
Highlight features:
Page builder: This theme has a visual page editor with a drag and drop interface and tons of customization options including hundreds of styling options, 20+ built-in custom content blocks, and so on.
40+ custom block builder: Banner, brands, blog categories, call to action, search bar, etc.
Menu composer: You can build your custom store navigation quickly. Combining categories, information and system pages, external links to create simple or mega menus.
Responsive design: Looking good on any resolution, scalable assets, glyph icons, touch-optimized navigation, etc.
SEO manager: Title and meta description, SEO editor, URL generator, etc.
Performance optimization: Performance of your store is important and Shoppica knows it. As a result, they use different techniques to improve the server and client-side rendering speed such as: caching all of the content builder blocks on the server, reducing load time with combined frontend styles and scripts…
Fastor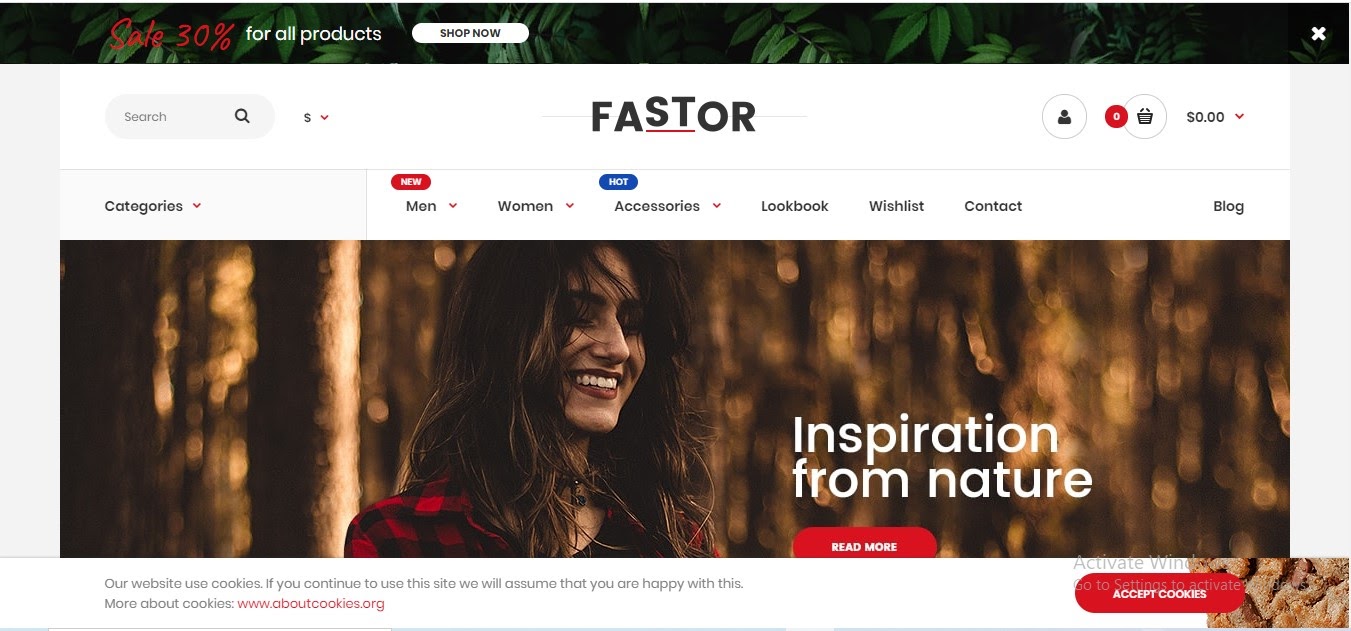 Fastor is the most powerful OpenCart theme with a ton of features that help you create a store without additional costs. Besides, it has 60+ ready-made layouts so you can easily make your websites beautiful for various purposes.
Sales: 3771
Compatible with OpenCart: OpenCart 3.0.2.x, OpenCart 3.0.1.x, OpenCart 3.0.0.x, OpenCart 2.3.0.x, OpenCart 2.2.0.x, OpenCart 2.1.x, OpenCart 2.0.x
Price: $59
Highlight features:
Fastor offers 75 pre-made skins in a theme. Each skin can be customized for your purpose in the admin panel. These skins cover almost every business category including beauty, food, electronics, home and furniture, fashion, and so on. All you need to do is choosing a suitable one for your business and then customize as you want.
Many dominant modules are integrated such as Revolution Slider, Blog, Multi-store MegaMenu, Cookie module, One-page checkout, Newsletter Popup…
SEO-friendly: The theme is ready for Google Rich Snippets. Its structure is in the best SEO standards.
100% Responsive: The best practice coding method helps ensure that no matter the device, your website will display beautifully.
In addition to some of the main outstanding features above, the Fastor support team is highly appreciated by customers.

Sellegance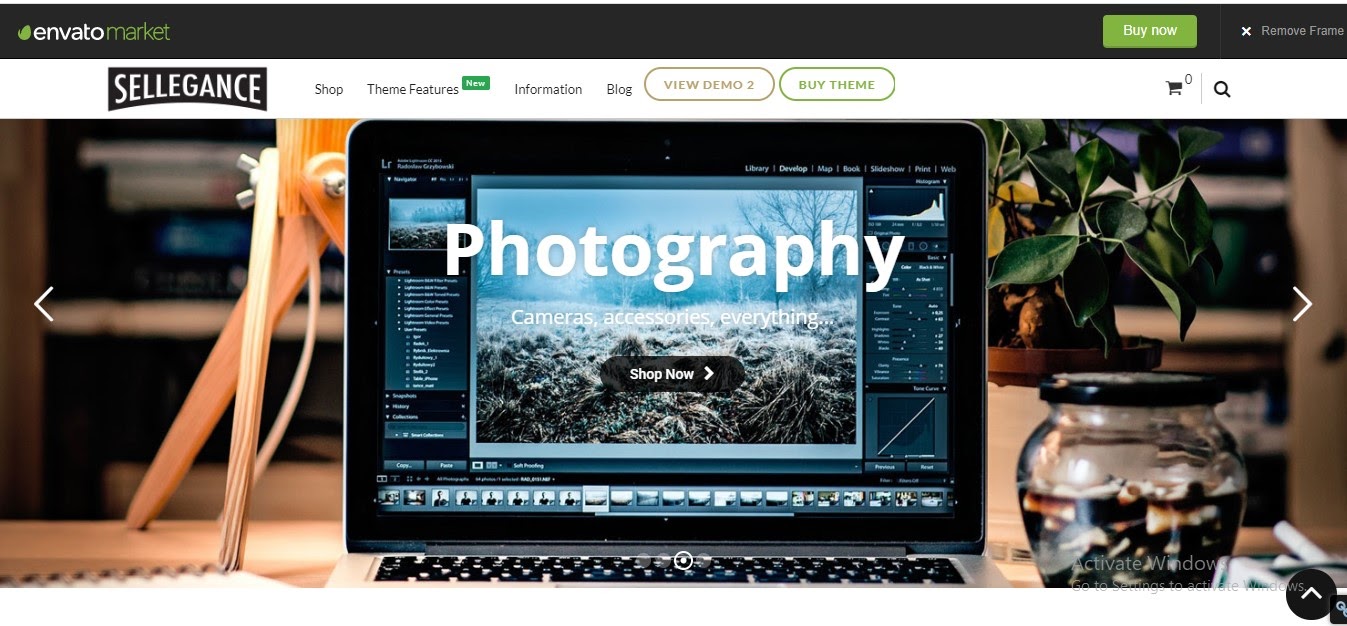 Compared to the above-mentioned options, Sellegance has fewer features. Its focus is on design and responsiveness. Therefore, you will have a clean interface and elegant design that looks good on all devices. In addition to that, Sellegance allows you to easily install without any HTML/CSS knowledge. Just upload and enable the theme and module, that's all.
Sales: 3542
Compatible with OpenCart: OpenCart 3.0.2.x, OpenCart 3.0.1.x, OpenCart 3.0.0.x, OpenCart 2.3.0.x, OpenCart 2.2.0.x
Price: $39
Highlight features:
Revolution Slider: Add amazing slides with video support to your site.
Built on HTML5: Future proof design with the latest technologies.
Twitter Bootstrap Framework: Amazing CSS framework for solid design
Multiple header layouts: Difference header styles and positions
Off-canvas navigation: Intuitive navigation for tablet and mobile size
Product page options: Show your product details in the accordion mode which is a graphical control element comprising a vertically stacked list of items, such as labels or thumbnails.
Quick buy: Quick view to see main features at a glance on the product listing
If you want to have a preview of the theme, Sellegance has options for you to pick. However, it's quite limited, the number only stops at 2.
Sellya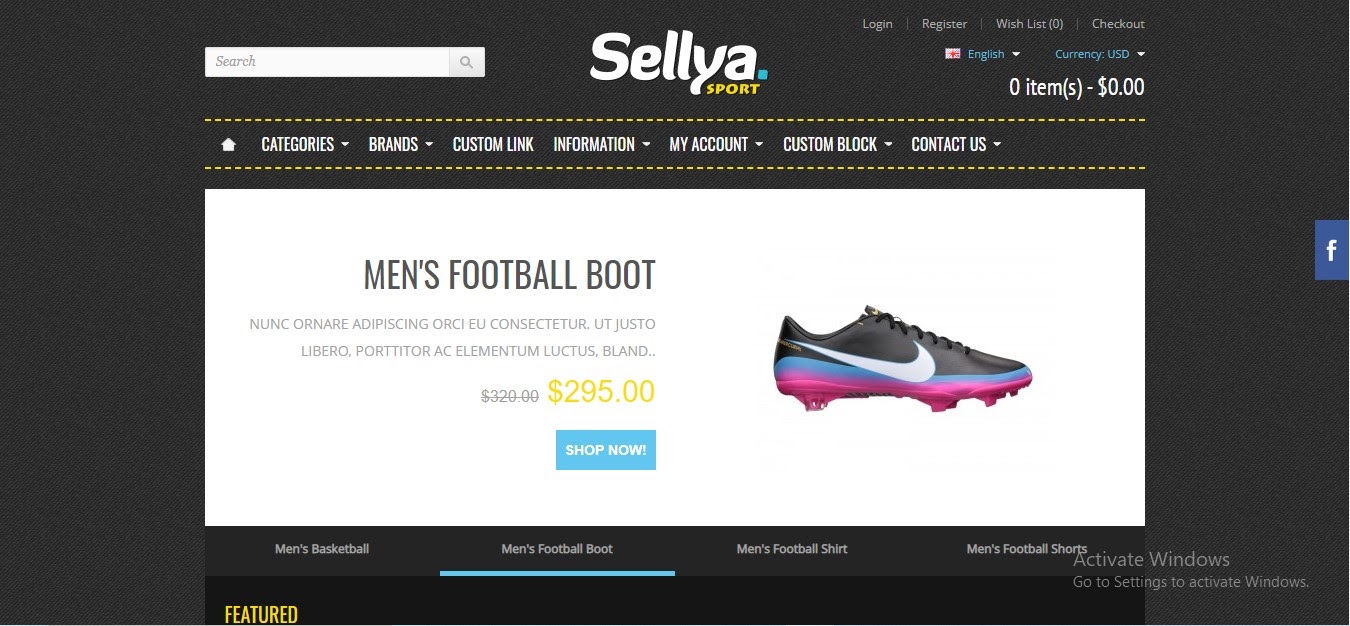 Sellya is a fully responsive OpenCart theme, it uses Bootstrap which is a package of HTML, CSS, and JavaScript code that provides styling, UI components, and page layouts for you to use in a web project. With this theme, you can use 300+ custom build options to freely customize your store without knowing any HTML or CSS.
Sales: 2004
Compatible with OpenCart: OpenCart 3.0.2.x, OpenCart 3.0.1.x, OpenCart 3.0.0.x, OpenCart 2.3.0.x, OpenCart 2.2.0.x
Price: $39
Highlight features:
Multiple color and style options: With 276 background patterns, 75 transparent background patterns, 130+colors, 10 social media icons, 4 cart icons, etc. You can build any stylish website store as you wish.
Megamenu: You can change the color and style of any menu element, turn on and turn off any blocks via the theme admin panel.
3 flexible slideshows: Camera slider, flex slider or featured products slider
Fully responsive design
Let's see some reviews from customers below!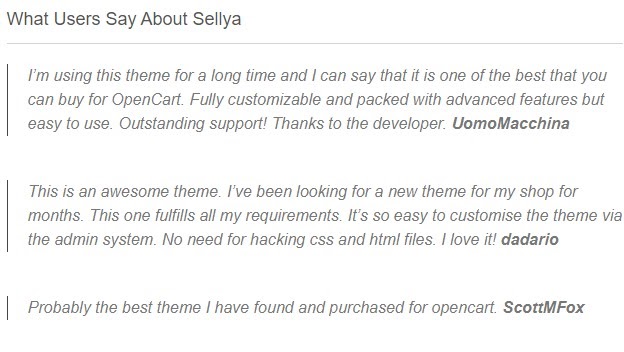 eMarket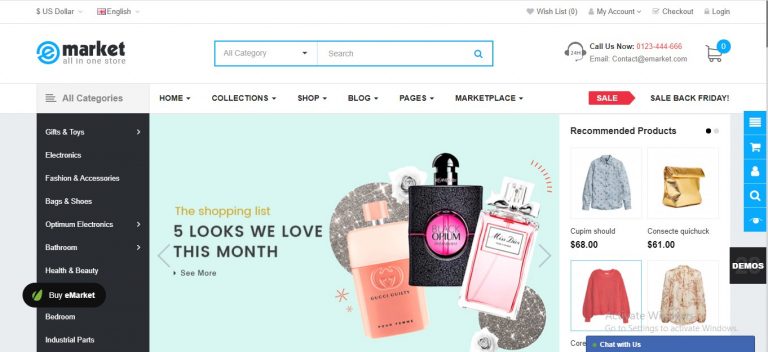 eMarket is also one of the best selling products with dedicated effort and support. The theme is designed to turn into an all-in-one option with strong features integrated, just like Fastor. Therefore, you only need eMarket to build any eCommerce website.
Sales: 1728
Compatible with OpenCart: OpenCart 3.0.2.x, OpenCart 3.0.1.x, OpenCart 3.0.0.x
Price: $59
Highlight features:
Modern designs: 28+ beautiful homepages with trending topics.
100% responsive: eMarket is designed to be responsive, so your online store will look amazing on all devices.
Powerful mega menu: This built-in mega menu is perfect for large menus. You can set up columns and rows, use icons and images easily.
Facebook messenger live chat: With this module, users can chat directly to the admin via messenger.
One-page checkout: This feature gathers all the information needed for your customers to check out on a single page so that they can complete the order quickly.
Support multi-language: This theme can work well with any language installed in your store. It enables you to translate your website to any language.
OXY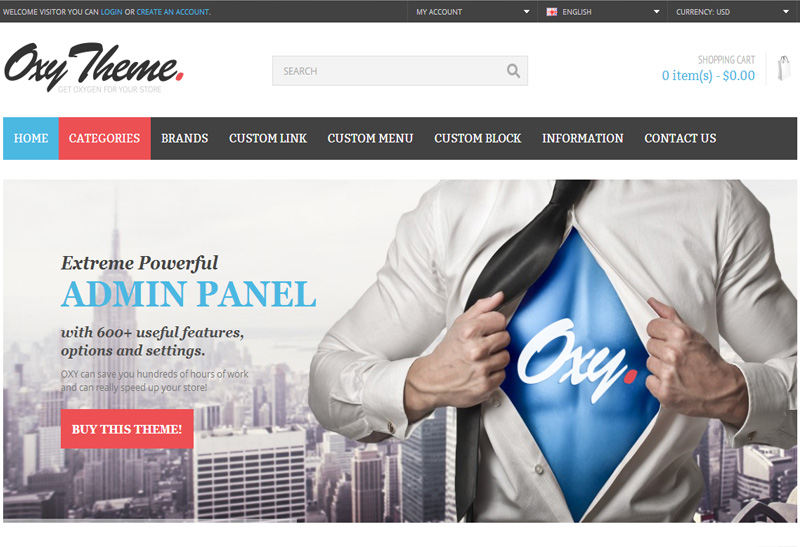 OXY is a modern, fully responsive, and highly customizable OpenCart theme for any type of store. It offers 1000+ useful features, options, settings, and 17 custom modules.
Sales: 1606
Compatible with OpenCart: OpenCart 3.0.2.x
Price: $39
Highlight features:
High customizability: Oxy has built-in color features for backgrounds, texts, links, headings, prices, buttons, icons, mega menu, and much more. Therefore, you can change the color of nearly every item to the way you want. Additionally, it also includes 276 background patterns, 75 transparent background patterns, 16 social media icons, and many other factors.
Megamenu: Oxy allows you to display 5 category styles. You do not have to add each category manually, just select a display style and your categories will appear automatically.
Product page: Oxy supports 13 product page layouts, cloud zoom, custom tags, and much more.
Conclusion
In conclusion, we have shown the key features of these best OpenCart themes. Have you got any ideas about which one suits you best? If not, here are some suggestions for you:
If you have a limited budget: You should try Materialize Template, it's free to use. You can still build a beautiful and user-friendly website with many useful integrated features.
If you want to have as much space for customizations as possible, go with one of these themes: Journal, Shoppica, Sellya or OXY. These templates allow you to customize your store easily and quickly.
If you want a comprehensive solution, choosing eMarket or Fastor are the best options. The themes are all-inclusive with almost every important feature built-in.
So, if you are dissatisfied with your current shopping cart and wish to migrate to OpenCart, LitExtension team is always here to help.
At present, we are supporting migration from 90+ shopping cart platforms. You can check whether your platform is supported for the automated migration in our list of supported carts here. In case your platform doesn't appear on our supported cart list, you can contact our support team via live chat. LitExtension also supports migrating from CSV files, database dumb, and database direct.
Finally, If you have any questions regarding our migration service, feel free to contact our support team, we are always here to help you! Join our Facebook Community to get more eCommerce tips and news.