eCommerce has been growing rapidly for years. According to data from IBM's US Retail Index, the shift toward digital shopping has accelerated by roughly five years in 2020.
With more businesses switching over to eCommerce or increasing their online presence, don't get left behind. But remember that it's more important than ever to keep your customers – even the difficult ones!
In this article, our top 10 eCommerce trends show you how to harness the latest developments to enhance the customer experience. Notably, keeping them coming back for more.
#1 Sustainability
Green consumerism has increased in importance in recent years. With the rapid movement of Gen Z, it's a trend that's going to maintain for a while.
Customers are becoming savvier about eco-friendly practices. They prefer choosing companies that are responsible for protecting the environment. In fact, 65 percent of consumers say they want to buy products from purpose-driven brands that advocate sustainability.
You can tap into this market by keeping customers informed about your green credentials – don't wait for them to ask you! Information about your products' origins should be easily accessible.
Clearly, your business should be going paperless wherever possible, reducing energy consumption, and using eco-friendly packaging.
Connected to the sustainability trend is the growth of eCommerce. This is set to rise, with customers keen to reuse and recycle products.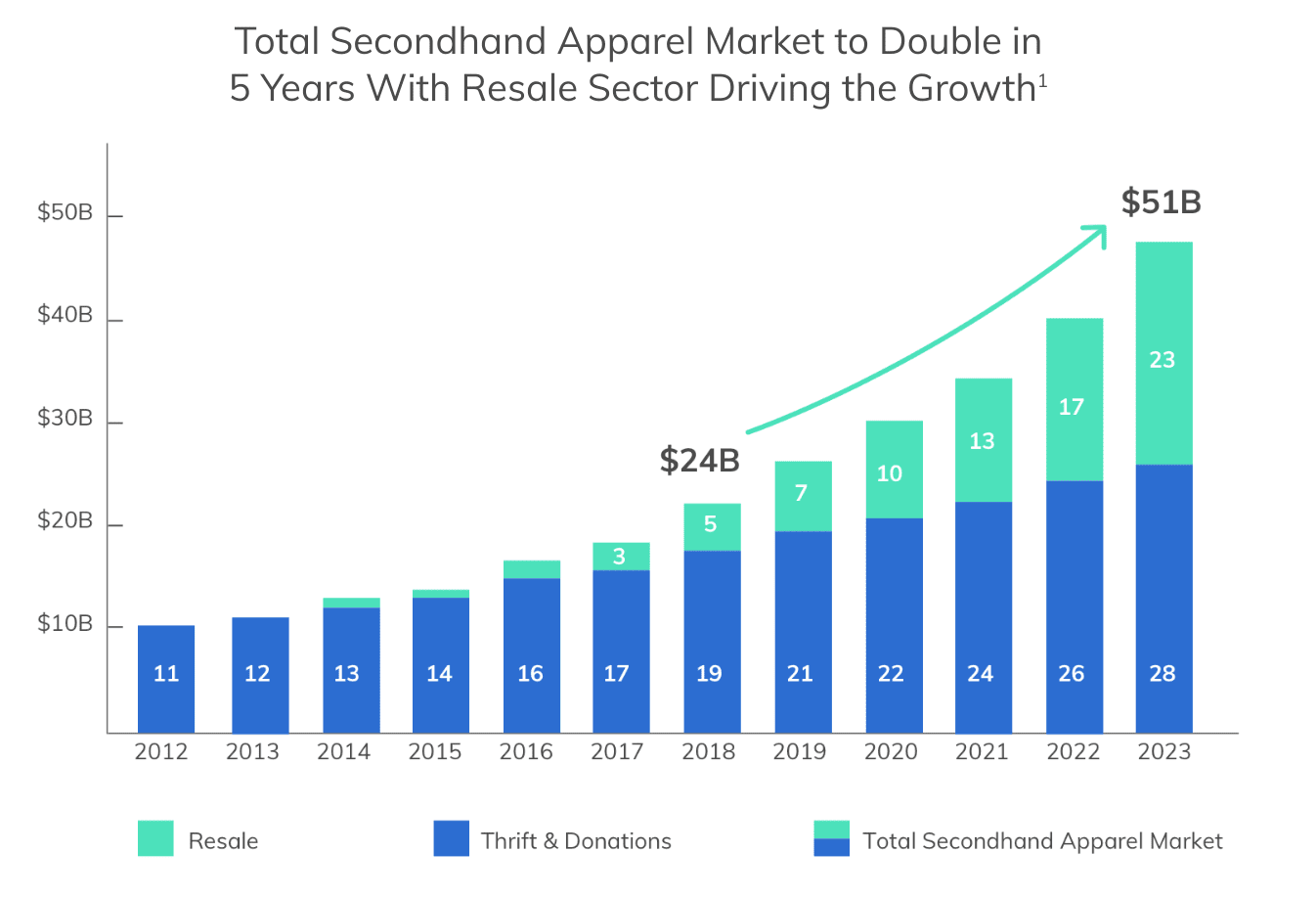 #2 Remote working
2020 has seen a number of already popular practices become even more widespread. One of these is remote working, with in-house meetings and customer briefings taking place via teleconference.
This could have a huge effect going forward, as people realize they don't always need to be physically present at a meeting. However, you do need the best software and systems for it to run smoothly.
Teleconferencing ties into the eco-friendly trend, as there's less need for business travelers to fly, drive, or take the train. If you're committing to more remote working, for this reason, let your customers know about the benefits.
#3 Personalization
A major key to keeping customers happy is personalization, whether it's customized products or tailoring the whole experience to individual preferences.
We've already seen an increase in personalized items at a lower cost and with shorter wait times, and this can only increase with the advent of 3D printing.
Customized packaging is even available – and that's not surprising given that 72 percent of Americans say their purchases are influenced by packaging design.
Personalization relies on gathering and analyzing customer data. As well as using the information the customer provides, don't be afraid to ask for more. For example, you could invite them to take part in an incentivized survey.
It might sound uncomfortable like cyberstalking, but keeping a close eye on customers' behaviors on social media can also help you target their preferences.
Another personalization method for eCommerce is retargeting, where you use a code on your site to track users. When they exit, they automatically see ads for the products they browsed.
#4 Artificial Intelligence
The importance of AI in eCommerce will grow and grow. Not only beneficial for customer services, sales, and marketing, AI now looks set to revolutionize forecasting and pricing, too.
Online sellers are predicted to spend $7.3 billion on AI by 2022, as customers become ever-more accepting of personalized shopping experiences and data-driven recommendations.
One study found that more than 60 percent of customers prefer having websites, apps, or chatbots answer their simpler inquiries, largely thanks to the faster response time.
As well as increasing efficiency, AI has applications for customer behavior predictions and logistics management. It can even help you to source customers (step one of the sales cycles) by working out the best times to launch products or send marketing emails.
Another important aspect of AI is automatic call recording, which removes ambiguity from customer/agent interactions – especially helpful in any dispute. It can also be used to analyze customer behavior and to train or assess agents.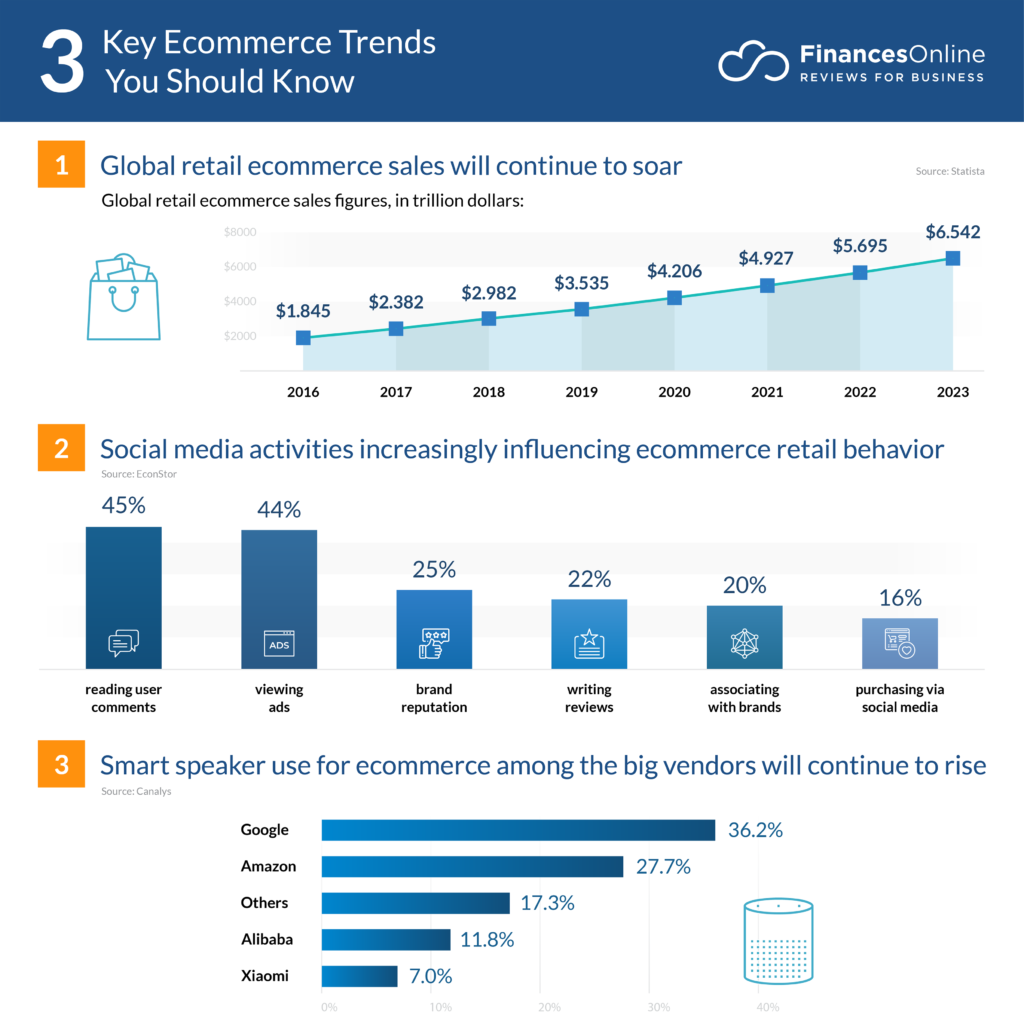 #5 Voice commerce
There's no doubt that smart speakers are a boon for everything from playing music to accessing the weather forecast, but what about online shopping?
Currently, around 20 percent of smart speaker owners say they use them for shopping-related activities, which doesn't sound like a huge figure. But the growing accuracy of voice-recognition software means the technology need to take off.
Smart speakers have laid the foundations, so it follows that companies should seize upon voice-activated online browsing for eCommerce and make their websites or other channels voice-friendly.
Even if they still complete the order in a conventional way, customers will appreciate the extra convenience and efficiency of a virtual assistant while they browse.
#6 Virtual reality
It once sounded like a futuristic fantasy, but the adoption of virtual or augmented reality is likely to be a lot more prevalent in the coming years. And not just for gaming!
In terms of eCommerce, technology gives customers the opportunity to touch and try out products before buying. IKEA and Amazon have already embraced this concept, while high street stores will soon offer virtual fitting rooms.
Running an entirely virtual store means you save on rent and admin, while VR/AR can also hold virtual exhibitions, trade shows, conferences, and workshops.
VR means people can experience museums, holiday destinations, and community events from the comfort of their lounge. It's worth taking a look to see how this rapidly advancing technology can benefit your business.
#7 Social and mobile commerce
Social commerce is particularly important in the millennial market, where customers are looking for maximum convenience and speed. If they see an appealing ad on Facebook, they don't want to spend time navigating to another channel to make the purchase – they want it right now!
Therefore, the ability to buy via social media channels is more likely to result in a sale, while utilizing multiple channels will give optimal exposure to your brand.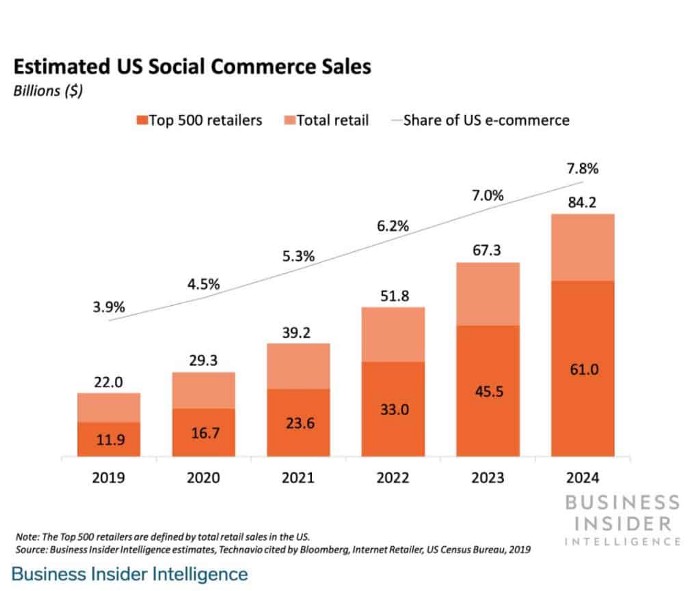 Meanwhile, interest in mobile commerce is increasing as customers become more confident in browsing and completing transactions on a mobile device. However, this is only going to work for you if all your content is fully optimized for different platforms.
For example, 30 percent of online shoppers are likely to abandon their carts in the middle of shopping if they find out that your website is not mobile-friendly.
The use of PWA (progressive web app) technology will ensure that your company website matches the style of 'native' apps on a device – e.g. it would look like an iOS app when using an Apple phone. This app-like experience offers a more streamlined and aesthetically-pleasing feel.
#8 Omnichannel marketing
Social media is just one of many platforms you can use to communicate with customers – and omnichannel marketing is predicted to become even more the norm in 2021.
Research shows that an omnichannel strategy can create a 250 percent higher engagement rate than in single-channel marketing. Customer retention, meanwhile, is up to 90 percent higher with an omnichannel strategy.
Therefore, it makes sense to use every opportunity to connect with customers and promote your brand. An integrated strategy will ensure every channel provides a top-quality customer experience, with analytics to monitor its efficacy.
New channels include everything from shoppable TV to pop-up physical stores, but don't forget the more traditional methods, such as SMS. Around 98 percent of messages are opened, compared to 18 percent of emails.
Also, faxing is still a thing! Some companies have adapted email to fax technology, while there are traditional businesses that still prefer to use a fax machine.
#9 Payment and processing
Payment options such as digital wallets have increased in popularity, while cryptocurrency is waiting in the wings.
In fact, 70 percent of people expect that digital payments will overtake cash and cards by 2030.
Improving your payment and processing systems could lock in a sale, as customers may abandon a transaction if your checkout process is not up to scratch.
Saving customers' details for their next visit will save them time while offering a free click-and-collect option is a bonus. Overseas customers may prefer to see prices in their own currency and use a local payment provider.
You could also offer to finance for larger purchases and use eCommerce logistics to speed up delivery.
#10 Subscriptions
Perhaps unsurprisingly, subscription services have become a popular eCommerce trend this year – and it's a market well worth tapping into. From the customer's viewpoint, subscriptions improve the shopping experience by offering personalization, convenience, and financial savings.
For your business, subscriptions allow for reliable forecasting thanks to scheduled repeat purchases and the retainment of high-quality customers rather than one-off consumers.
Takeaways: The future of eCommerce
It pays to make sure you're prepared for the future – but as things change, ensure you always put customers at the heart of what you do.
You could consider taking eCommerce classes to learn best practices, from website-building to engaging customers and supercharging sales.
Finally, remember that eCommerce means customers can browse and shop day and night, so support should be available round the clock. Make sure you choose the best call center software for small businesses.
This is the guest post by Richard Conn from RingCentral US
Richard Conn is the Senior Director, Search Marketing for RingCentral, a global leader in unified communications and VoIP providers.
He is passionate about connecting businesses and customers. Conn has experience working with Fortune 500 companies such as Google, Experian, Target, Nordstrom, Kayak, Hilton, and Kia.